US missiles to use Taiwanese-developed technology
A Taiwanese manufacturer has become part of the US-made MIM-104F (PAC-3) Patriot missile supply chain after passing appraisals from the weapon's developer, sources said, adding that the company has received NT$800 million (US$25.3 million) in international orders.
"Although the PAC-3 missile is an American product, it has Taiwanese technology in its 'DNA,'" said a high-ranking military official who declined to be named, adding that the local manufacturer has exceptionally good radar-tracking signal management technology that the US contractors wanted.
The radar signal management technology was developed at the Ministry of National Defense-affiliated National Chungshan Institute of Science and Technology and started out as a military product before being released for commercial use, the official said.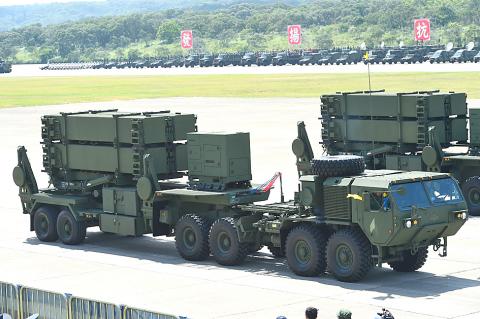 The US-made MIM-104F (PAC-3) Patriot missile takes part in the Han Kuang No. 31 military exercises in June.
Photo: Chang Chia-ming, Taipei Times
The high-speed digital signal management software module was released to a large domestic software company, which then used it in domestic and international military equipment orders, the official said, adding that these orders included the PAC-3 after it passed appraisals by US-based companies Lockheed Martin and Raytheon.
The official said the high-speed software is essential to interception and defense capabilities, adding that the Taiwanese software not only received recognition from foreign firms, but is also used in the Tien Kung III (Sky Bow III) surface-to-air missile system.
Institute vice director Major General Chang Kuan-chun (張冠群) led the institute's first delegation to an international aerospace exhibition in Japan from Wednesday last week through Saturday.
The delegation exhibited 34 domestically developed defense technology products, including the Tien Kung III, Hsiung Feng II and Hsiung Feng III anti-ship missiles, and medium and large-sized automated drone systems.
The institute said it aims to improve international recognition of Taiwanese defense technology and improve cooperation with international manufacturers in producing both civilian and military products.
The missile system's technology can be combined with other weapons and communications systems according to customer requirements, the institute said, adding that Taiwanese manufacturers are able to make complete aerospace systems.
Taiwan, South Korea and Japan deploy PAC-3 missile defense systems, the official said, adding that the institute was approached about the design and capabilities of the technology many times over the course of the exhibition.
Comments will be moderated. Keep comments relevant to the article. Remarks containing abusive and obscene language, personal attacks of any kind or promotion will be removed and the user banned. Final decision will be at the discretion of the Taipei Times.