Meranti blows through, injures nine
NOT OVER YET: Hengchun Township had winds that reached Level 16 in the Beaufort Scale, a new record. Another typhoon could move near Taiwan on Saturday
Strong winds and torrential rainfall yesterday pummeled southern and eastern Taiwan, injuring nine people and leaving more than 550,000 households without power.
Data from the Central Emergency Operation Center showed that three people were hurt in Taitung County, one in Hualien County, three in Tainan and two in Kinmen. Five were injured as they rode motorcycles or traveled in cars.
Taiwan Power Co (台電) statistics showed that 702,946 households lost power, the majority in Pingtung County. However, power had been restored to about 130,000 homes by about 3:40pm, it said.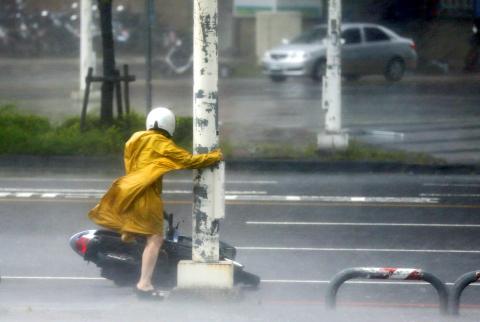 A motorcylist holds on to a lightpole as she braves the high winds and rain of Typhoon Meranti in Kaohsiung yesterday.
Photo: Ritchie B. Tongo, EPA
By 8:30pm yesterday, the center of Meranti was 70km southwest of Penghu and it had become a weaker typhoon, the Central Weather Bureau said.
The typhoon yesterday morning generated strong winds in Pingtung's Hengchun Township (恆春), which reached Level 16 on the Beaufort Scale, Central Weather Bureau forecaster Hsieh Ming-chang (謝明昌) said.
This was the strongest since the establishment of an observation station in Hengchun in 1896, he said.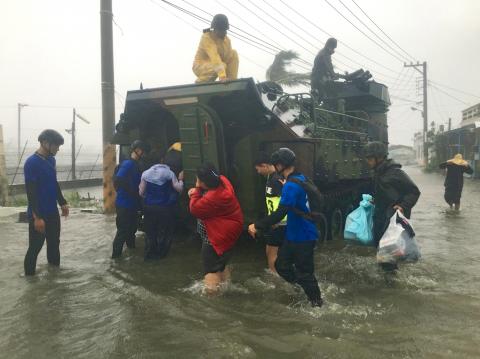 Firefighters and troops yesterday evacuate residents from a flooded area in Pingtung County's Fangliao Township during Typhoon Meranti.
Photo: CNA
Humans are likely to be blown over by a Level 16 gust, the bureau said.
Meranti was forecast to weaken as it moved through the Taiwan Strait, where the sea temperature is low, and the radius of the storm could be shrink further, Hsieh said.
Meranti is forecast to move further toward China via the seas near Kinmen this morning, with Taiwan proper out of the storm's circumference, he said.
A crushed car is seen under a tree toppled by strong winds brought by Typhoon Meranti on Qingdao E Road in Taipei.
Photo: Liao Chen-huei, Taipei Times
However, some parts of the nation might still see some heavy rainfall this morning due to lingering clouds brought by the typhoon, particularly in the southwest, he said.
The rain and winds would ease by this afternoon, he added.
The typhoon wreaked havoc with many people's travel plans for the four-day Mid-Autumn Festival holiday, which begins today.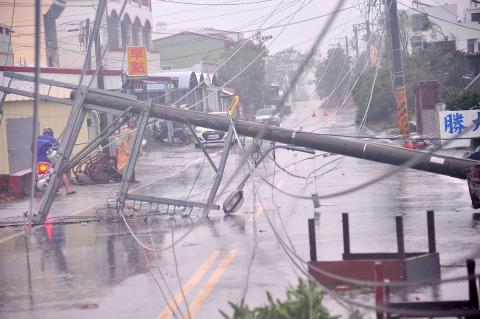 A fallen electric pole blocks a street in the Longshuei area of Pingtung County's Hengchun Township as Typhoon Meranti hit the south of the nation yesterday.
Photo: Tsai Tsung-hsien, Taipei Times
The Taiwan Railways Administration (TRA) on Tuesday canceled services on several rail lines due to the storm and announced yesterday morning that its west coast services would only operate until Chiayi after 6pm.
Southbound services between Hualien and Taitung did not resume until 5:50pm.
Railway tracks and electricity cables along several sections of TRA lines were damaged by the rain and winds generated by the typhoon, including the sections between Dongjhu (東竹) and Fuli (富里) townships in Hualien, Shanli (山里) and Luye (鹿野) townships in Taitung and Kaohsiung and Xinzuoying (新左營).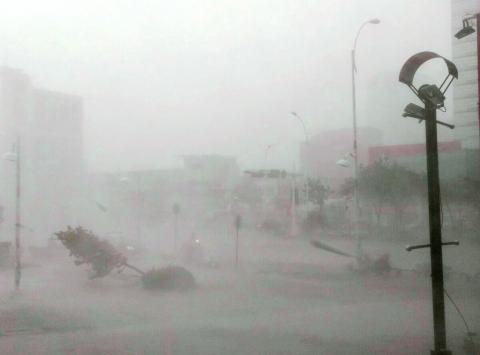 Trees are uprooted amid high winds and rain as Typhoon Meranti lashes Kaohsiung yesterday.
Photo: Ritchie B. Tongo, EPA
Although the Taiwan High Speed Rail Corp (THSR, 台灣高鐵) said on Tuesday night that it would maintain normal operations yesterday, its schedule was interrupted by a pantograph — the frame that carries current to a train — that broke at 1:38pm on the southbound section between Tainan and Zuoying (左營) in Kaohsiung.
The breakage meant that later southbound trains only went as far as Tainan and all northbound trains were dispatched from Tainan rather than Zuoying. THSR used shuttle buses to transport passengers between Tainan and Kaohsiung.
Southbound express train service to Zuoying leaving after 3pm, where trains were not scheduled to stop in Tainan, was also curtailed, with trains only going to Taichung.
The Maritime Port Bureau said 154 shipping services were canceled yesterday, while 233 domestic flights and 175 international flights were canceled, according to the Civil Aeronautics Administration.
At press time last night, schools nationwide suffered storm losses amounting to NT$1.1 million (US$34,712), the Ministry of Education said.
National Feng-shan Senior High School in Kaohsiung's Fengshan District (鳳山) bore the brunt of the damage, as a parking lot behind an outdoor lecture platform was destroyed, costing the school NT$980,000, the ministry said.
In Kinmen, part of a fence around Hepu Elementary School was damaged by a toppled tree, with repairs estimated to be about NT$50,000, the ministry said.
Meanwhile, another storm, Typhoon Malakas, is moving toward Taiwan.
The bureau could issue a sea alert for Malakas tonight or early tomorrow morning, Hsieh said.
The bureau said Malakas would come closest to Taiwan on Saturday, but its eye is not expected to make landfall. However, it could have a greater impact on Taiwan if its path moves further south, the bureau said.
Malakas is forecast to slow and turn north toward Okinawa and other parts of Japan after it comes close to Taiwan, the bureau added.
Additional reporting by Sean Lin
Comments will be moderated. Keep comments relevant to the article. Remarks containing abusive and obscene language, personal attacks of any kind or promotion will be removed and the user banned. Final decision will be at the discretion of the Taipei Times.