Cabinet lays out 'southbound' plan
SOFT POWER: Minister Without Portfolio John Deng said the sincerity of Taiwanese and their work ethic gives the nation an edge over its neighbor across the Taiwan Strait
The Executive Yuan yesterday outlined an implementation plan for the government's "new southbound policy," which is aimed at boosting ties with 16 ASEAN and South Asian nations, as well as Australia and New Zealand.
The plan is based on four principles — economic cooperation, special talent exchange programs, resource sharing and regional integration — and will pave the way for a regional economic community, Minister Without Portfolio John Deng (鄧振中) said.
Businesses that are among the nation's flagship industries, such as oil refining, power generation, environmental protection, electronic toll collection and the Internet of Things, will be the first to be marketed to partner nations, Deng said.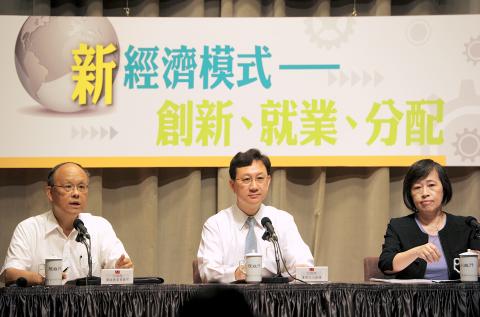 From left, Minister of Economic Affairs John Deng, Cabinet spokesman Tung Chen-yuan and National Development Council Deputy Minister Kao Shien-quey hold a news conference at the Executive Yuan in Taipei yesterday.
Photo: CNA
A trade office "Taiwan Desk" is to be established in other nations to streamline communication between local governments and Taiwanese businesses, he said.
The Executive Yuan will also establish a trade negotiation office — led by Deng — to direct negotiations with 18 partner nations, and the office is to operate independently of the Presidential Office's New Southbound Policy Office.
"A 'national team' will be established to help Taiwanese businesses reach out to foreign markets and find their niche," Development Council Deputy Minister Kao Shien-quey (高仙桂) said.
"The new southbound policy differs from previous ones in that the government seeks to establish bilateral economic partnerships with Southeast Asian nations instead of unilaterally seeking subcontracts and investment opportunities in those nations," Kao said.
Kao said that the Council of Agriculture will establish a company to market Taiwanese products and provide technical assistance to other nations, while the Ministry of Science and Technology will launch technology exchange programs focusing on disaster prevention.
Skilled immigrant workers will be eligible to apply for long-term residency and professional certification programs, while the language skills of new immigrants and their children will be used to attract more Southeast Asian tourists and teach Southeast Asian languages to Taiwanese, she said.
The number of occupational training programs is to be increased to raise the number of international students from 28,000 to 56,000 by 2019.
Scholarships are to be provided to Taiwanese students to pursue education opportunities in partner nations, where Taiwanese colleges are to establish campuses.
The government is to invest NT$4.2 billion (US$133.31 million) to implement the policy, she said.
In response to a question on how Taiwan can compete with rivals like China, when Beijing has invested a lot of time and resources into partnering with Southeast Asian nations, Deng said Taiwan's edge lies in its "soft power" such as people's sincerity, hospitality and work ethic.
"There is no need to compete with China's 'One Belt, One Road' initiative. Taiwanese businesses will also seek investment opportunities created by the Chinese initiative," Deng said.
Comments will be moderated. Keep comments relevant to the article. Remarks containing abusive and obscene language, personal attacks of any kind or promotion will be removed and the user banned. Final decision will be at the discretion of the Taipei Times.