Drinks in Taichung fail bacteria tests
The Taichung Bureau of Health yesterday said more than half the bottled tea beverages sold in vending machines failed bacterial inspections, with one showing a bacteria count up to 3,950 times the legal standard.
Tea beverages packaged in specially designed containers — usually by local beverage shops — and sold in vending machines have become popular, especially in metropolitan areas of southern and central Taiwan.
The bureau's random inspections, which included a count of coliform bacteria, Escherichia coli and salmonella, on nine tea products in the past month showed that five failed the Sanitation Standard for Beverage (飲料類衛生標準) and the Sanitation Standard for General Foods (一般食品衛生標準).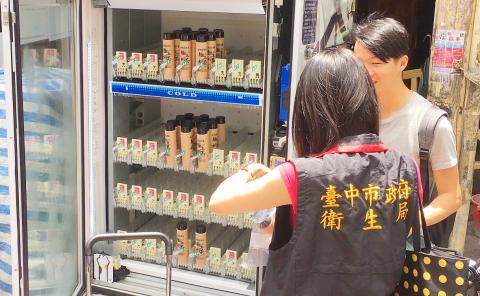 Taichung Department of Health staff on Friday gather drinks to be inspected.
Photo: Tsai Shu-yuan, Taipei Times
One of the products was made by a company outside Taichung and the case has been handed to another city.
Three beverages failed the bureau's inspection a second time after being given a grace period to make improvements: Baobao Loves Black Sugar Milk Tea (寶寶最愛黑糖牛奶) made by Kappa (河童茶研所), Supreme Milk Tea (極上奶茶) made by Mingliu (茗琉茶居) and Classic Thai Milk Tea (經典泰式奶茶) made by Travelers (旅行者茶飲), the Taichung bureau said.
Classic Thai Milk Tea samples showed a total bacteria count of up to 1,270,000 colony-forming units per gram (CFU). The regulated maximum is 200CFU/g.
The three companies face fines of between NT$30,000 and NT$3 million (US$935 and US$93,545), based on the Act Governing Food Safety and Sanitation (食品安全衛生管理法), the bureau said.
Bacterial contamination can be caused by poor sanitation of water, pipelines, the manufacturing environment, the storage facilities or poor employee hygiene, as well as unclean containers, it said.
Although people might not develop serious illness from drinking problematic beverages, some might experience vomiting, stomachaches, diarrhea or other symptoms, the bureau said, adding that food companies should enhance hygiene management to ensure food safety.
Comments will be moderated. Keep comments relevant to the article. Remarks containing abusive and obscene language, personal attacks of any kind or promotion will be removed and the user banned. Final decision will be at the discretion of the Taipei Times.