Alleged Taipei train bomber regains consciousness
MISSING PERSON: A man suspected of Thursday's train attack lived in a van with his dog, was estranged from his family and treated for cancer and mental illness
Lin Ying-chang (林英昌), who police suspect of detonating an explosive device on a commuter train in Taipei on Thursday evening, regained consciousness yesterday morning, but is intubated and in a critical condition, Taipei Medical University Hospital said.
Lin, 55, was among the passengers most severely injured when a steel pipe bomb exploded at about 10pm in the sixth carriage of a northbound commuter train as it headed into Songshan Railway Station (松山車站).
Hospital deputy superintendent Huang Tsung-jen (黃聰仁) said Lin should be well enough to be questioned by police in two or three days.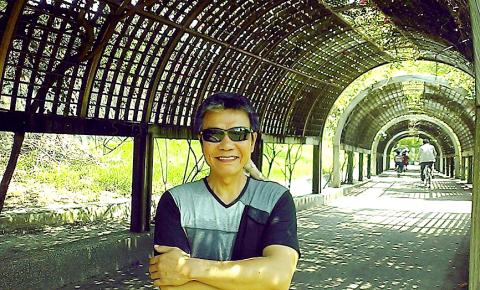 Train bombing suspect Lin Ying-chang smiles in an undated photograph taken from his Facebook profile.
Photo: Wu Cheng-feng, Taipei Times, from Facebook
The hospital contacted the police on Friday after they found metal fragments in Lin's chest and thighs, causing wounds that differed from those sustained by other passengers.
Investigators named Lin as the sole suspect in the explosion after analyzing video footage from surveillance cameras from the train station and from a bus Lin took, and comparing his DNA with DNA found on the pipe bomb and in the bag used to carry the explosive device, Criminal Investigation Bureau Director Liu Po-liang (劉柏良) said.
In addition, investigators also found a red canvas bag in the bathroom of the train that is identical to a bag video footage shows Lin carried onto the train.
Police found material that could be used to assemble an explosive device inside the bag.
Investigators said Lin had left a note before he committed the crime, as he expected he would die in the attack.
Investigators said hospital records show that Lin received treatment for mental health problems and tonsil cancer, adding that he had been in financial trouble.
Lin's son on Friday told police that his parents are divorced and that his father used to work as a house painter, but left home years ago and was listed as a missing person.
Lin, who is from Hualien, had been living in his van with his dog, police said.
He has a criminal record that includes offenses such as theft, the handling of stolen property and drunk driving.
Police said they found Lin's van, which he left in a mountainous area of Nantou County before taking a bus and then a train to Taipei.
Investigators found a note in Lin's van that he left behind for his family, telling them to repay his creditcard debts and arrange his funeral. They also found his dog in the van.
The owner of a small restaurant told investigators that Lin had borrowed money from her and said he was going to Taipei for two days, adding that Lin gave her the key to his van and asked her to feed his dog.
Before discovering Lin's van and interviewing the restaurant owner, investigators had police track Lin's movements before he arrived in Taipei from GPS coordinates found on his smartphone, which was retrieved from the train after the explosion.
Several passengers wounded in the attack said they saw Lin holding a long, pipe-like device.
Lin's family, who visited him at the hospital on Friday, said they were rarely in contact with him and did not know why he would commit such a crime.
Comments will be moderated. Keep comments relevant to the article. Remarks containing abusive and obscene language, personal attacks of any kind or promotion will be removed and the user banned. Final decision will be at the discretion of the Taipei Times.