Ministry seeks balance on holidays, pay
SCHOOL WORK: The labor ministry also faced questions over its plans to implement student 'study assistantships,' which are not eligible for benefits like labor insurance
The Ministry of Labor is planning to review regulations on compensatory holidays and overtime pay to find a balance between granting workers extra days off and additional pay, Minister of Labor Kuo Fong-yu (郭芳煜) said yesterday.
Current rules set overtime pay at 1.33 times the regular pay for the first two hours and 1.67 times regular pay every two hours thereafter, Kuo said.
However, "employees receive only one [compensatory] day off if they work on a holiday [instead of overtime pay], which I feel is not fair," the minister said, adding that workers should be given extra time off to remove the discrepancy with overtime pay.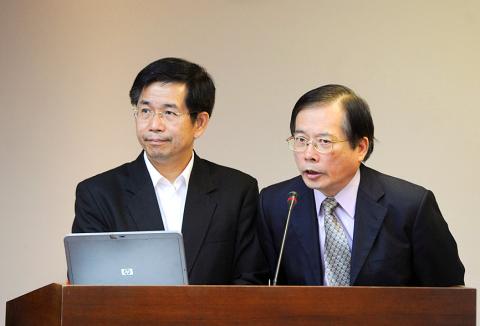 Minister of Education Pan Wen-Chung, left, stands by as Minister of Labor Kuo Fong-yu, right, speaks at the Legislative Yuan in Taipei yesterday.
Photo: CNA
Kuo added that while two fixed days off (兩例) per week is the ministry's long-term objective, its proposed "one fixed day off and one flexible rest day" (一例一休) would give workers and employers more flexibility in the short term.
The proposed regulation, which has been forwarded to the legislature for review, would still allow for work on the flexible rest day in return for overtime pay or compensatory time off.
Under current rules, employees can only work on their weekly fixed day off in the event of a disaster or emergency, with employers obligated to provide both overtime pay and a compensatory day off.
Labor activists have maintained that the discrepancy in rates for overtime pay and compensatory time off would reduce the effectiveness of the proposed regulations, by enabling employers to pressure employees to work on their flexible rest day, and paying them in the form of compensatory holidays instead of overtime pay.
The ministry has also promised to increase overtime pay on the new weekly flexible rest day, following criticism from labor activists that the new rules would lead to real cuts in worker pay, when combined with the elimination of several national holidays with their higher overtime rates.
Kuo made his statements prior to a meeting of the legislature's Social Welfare and Environmental Hygiene Committee, which also focused on ministry plans to implement student "study assistantships" and include part-time university lecturers within the framework of the Labor Standards Act (勞動基準法), in coordination with the Ministry of Education.
Democratic Progressive Party (DPP) Legislator Su Chiao-hui (蘇巧慧) criticized government plans to distinguish between student "study assistantships" and "labor assistantships," with only the latter eligible for labor insurance and other benefits under the labor law.
"It is really difficult to make any distinction [between study and labor assistantships] and, for this reason, we should simply treat them as labor," she said, "Labor is labor, regardless of whether you are making a contribution to yourself or the school as a whole."
"Based on the current definition of 'study assistantships,' there is no way to distinguish it from a contractual labor relationship because there is clearly a subordinate relationship, along with exchange and payment for services," New Power Party Executive Chairman Huang Kuo-chang (黃國昌) said, adding that the government has yet to propose an effective mechanism for dealing with any contractual conflict.
Chinese Nationalist Party (KMT) Legislator Ko Chih-en (柯志恩), a former dean of student affairs at Tamkang University, said the proposed rules could lead to a reduction in the number of positions available for students.
"Given the current political environment, schools are likely to be forced to eventually turn all of their study assistantships into labor assistantships, but this will lead to large cuts in the number of assistantships available, unless schools receive additional funds," she said, adding that moves to include part-time university instructors within the labor law would have a similar effect.
"I am concerned that this change will affect the rights of instructors, because schools will move to trade their full-time instructors [to avoid paying additional benefits]," she said.
Minister of Education Pan Wen-chung (潘文忠) had said the ministry would seek to include part-time university lecturers within the framework of the labor law by the beginning of the fall school term.
Meanwhile, DPP Legislator and committee co-convener Lin Shu-fen (林淑芬) got into a shouting match with DPP Legislator Liu Chien-kuo (劉建國) over legislative rules toward the end of the morning's question-and-answer session, after Liu claimed that he had been unfairly prevented from registering to present his questions.
Liu and Lin were both DPP candidates for committee co-convener, but Liu lost to KMT Legislator Alicia Wang (王育敏) in a tie-breaking draw after DPP Legislator Yang Yao (楊曜) voted for himself instead.
Comments will be moderated. Keep comments relevant to the article. Remarks containing abusive and obscene language, personal attacks of any kind or promotion will be removed and the user banned. Final decision will be at the discretion of the Taipei Times.