Tsai Ing-wen welcomed in Panama
CHINESE NON-ACTION? A report said that according to a government official, planning the president's flights was smooth because Beijing did not intervene too much
President Tsai Ing-wen (蔡英文) arrived in Panama City on Saturday on her first overseas trip since assuming office on May 20, which also marked the first time that a Taiwanese presidential charter flight crossed Cuban air space.
Tsai was greeted at the Tocumen International Airport in Panama City with a red-carpet ceremony and an enthusiastic welcome by Panamanian officials, as well as nearly 200 Taiwanese expatriates.
Addressing well-wishers at the airport, Tsai said she felt "very honored to be invited by [Panamanian] President [Juan Carlos] Varela to attend the Panama Canal opening ceremony," and that "on behalf of the Republic of China government and its people," she wanted to "convey the highest congratulations and greetings to the Panamanian government and its people."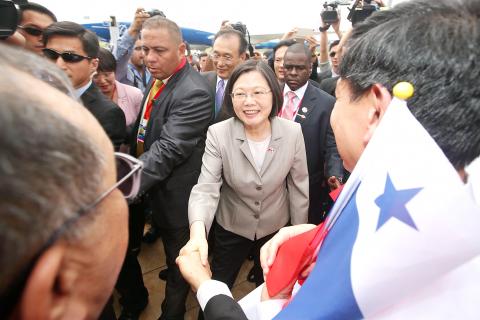 President Tsai Ing-wen, center, shakes hands with Taiwanese expats at the Tocumen International Airport in Panama City yesterday.
Photo: CNA
"To be able to take part in the ceremony with leaders and representatives from around the world as well as the Panamanian government and people, I feel it's like attending a happy event of a good friend, with full expectations and joy," she said.
The president expressed hope that bilateral Taiwan-Panama relations and the benefits that it would bring for people from both sides would be boosted following her visit to the Central American nation.
A high-ranking government official who asked to remain anonymous told the Chinese-language United Evening News that when former presidents Lee Teng-hui (李登輝) and Ma Ying-jeou (馬英九) made state visits to Panama, their flights transited via Hawaii and Los Angeles respectively.
The official said that planning the flight route went smoothly and Beijing did not intervene too much, while another diplomatic official, who also asked to remain anonymous, said that in addition to Beijing's non-interference, Cuba's re-establishment of diplomatic ties with the US and improved relations with other Western nations were factors, the United Evening News reported.
In 2007, former president Chen Shui-bian's (陳水扁) flight was forced to make a more than four-hour detour on a return flight from Nicaragua because Mexico refused passage after reports of pressure from China.
Presidential Office spokesman Alex Huang (黃重諺) said that China Airlines (中華航空) — which is providing flights for Tsai's trip — was in charge of planning and that the Presidential Office did not intervene.
China Airlines declined to answer questions regarding the flight route, citing national security concerns.
Tsai said she was surprised to see nearly 400 Taiwanese expatriates at a banquet, as people from China had threatened to organize a boycott.
There were also Taiwanese attendees from Costa Rica, the Dominican Republic, Colombia and Brazil at the meal.
On her three-day visit, Tsai was to attend the inauguration ceremony for the Panama Canal Expansion project yesterday.
Comments will be moderated. Keep comments relevant to the article. Remarks containing abusive and obscene language, personal attacks of any kind or promotion will be removed and the user banned. Final decision will be at the discretion of the Taipei Times.