Sunflower leaders to face justice system 'head-on'
Prominent leaders of the Sunflower movement yesterday entered not guilty pleas as their trial for storming the legislature began, saying they would face the justice system head-on.
Lin Fei-fan (林飛帆), Chen Wei-ting (陳為廷) and Huang Kuo-chang (黃國昌) made the remarks at the Taipei District Court yesterday.
They face charges related to student-led protesters occupying the Legislative Yuan's main chamber from March 18 to April 10, 2014, in what became known as the Sunflower movement.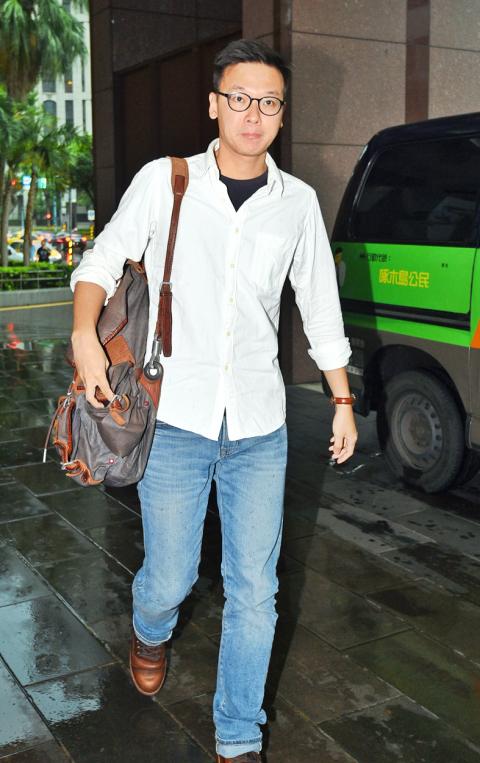 Sunflower movement leader Lin Fei-fan walks to the Taipei District Court yesterday morning.
Photo: Lo Pei-der, Taipei Times
The trio were among nine defendants summoned to appear in court yesterday.
Judges reviewed more than 100 minutes of video from March 18 to determine whether the defendants were guilty of inciting others to commit an offense, obstructing an officer in discharge of duties and illegal entry, among other charges.
Prosecutors said there are a total of 21 defendants, with Lin, Chen and Huang among the first of three groups scheduled for court appearances.
Prior to entering the court room, Lin said: "I feel this is a good opportunity to defend ourselves in court and to argue the legitimacy of our actions. We have been consistent in our stance when taking on the justice system: that we will face it head-on and we will not evade any legal responsibility."
"The Sunflower movement was to rescue Taiwan's constitutional democracy, which was teetering on the edge of a precipice," Huang said. "So we had to initiate this civil disobedience action to save it. Under our nation's new democratic system, this movement has a high degree of legitimacy. So we hope these issues can be deliberated upon during the judicial proceedings of this case."
He said the protest was precipitated by Chinese Nationalist Party (KMT) Legislator Chang Ching-chung (張慶忠), who, in violation of legislative procedures, attempted to fast-track the cross-strait service trade agreement through the legislature in 30 seconds on March 17.
"Due to the so-called '30-second incident,' which destroyed Taiwan's constitutional democracy, the real culprits were Chang Ching-chung and [former president] Ma Ying-jeou (馬英九), and also the party they belonged to," Huang told reporters.
"We fervently believe we are not guilty [of the charges laid by prosecutors]. The guilty ones are Ma, who trampled upon Taiwan's democratic system, and Chang, who wrecked the legislature's checks-and-balance mechanism. Those who stood up with courage against them are not guilty, as they tried to save Taiwan's democracy and freedom," he said.
Chen said he was not at liberty to speak about the case, because he is serving at a government agency in lieu of his mandatory military service.
Comments will be moderated. Keep comments relevant to the article. Remarks containing abusive and obscene language, personal attacks of any kind or promotion will be removed and the user banned. Final decision will be at the discretion of the Taipei Times.