KMT lawmakers tell party to apologize to Aborigines
Two Aboriginal Chinese Nationalist Party (KMT) legislators said the party should apologize to Aborigines for its past failures in protecting their cultural and economic rights, and for not responding to their demands for land rights.
KMT legislators Sufin Siluko (廖國棟) and Sra Kacaw (鄭天財) made the remarks at the party's weekly Central Standing Committee meeting on Wednesday, where they presented a special report on transitional justice for Aborigines in Taiwan.
Siluko said that although former president Ma Ying-jeou (馬英九) introduced legislative reforms during his terms in office, Aborigines experienced significant erosion of their cultural heritage and language, continued economic exploitation and an absence of meaningful action for land rights throughout Ma's administrations.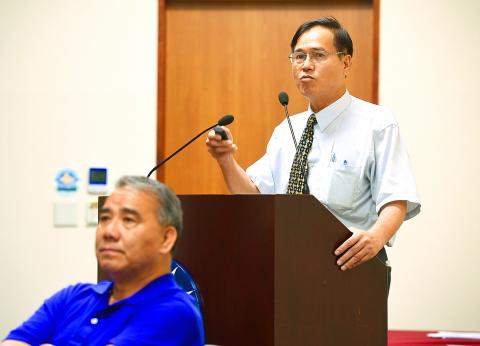 Chinese Nationalist Party (KMT) Legislator Sufin Siluko listens as his collegaue Sra Kacaw speaks at a meeting of the party's Central Standing Committee on Wednesday.
Photo: Lo Pei-der, Taipei Times
Siluko called on the KMT to issue a formal apology for its failures, convene representatives of Aboriginal groups to discuss a new Aboriginal policy platform and draft a bill that would enable Aborigines to reclaim land taken from them.
KMT Chairwoman Hung Hsiu-chu (洪秀柱) did not respond directly to Siluko and Kacaw's report, saying instead that the party has "a sufficient understanding of, and the determination to, implement cultural pluralism and international human rights treaties and declarations on the rights of Aborigines."
She added that the KMT had, under Ma, passed the Indigenous Peoples Basic Law (原住民族基本法), implemented the four-year NT$50 billion (US$1.55 billion) plan for infrastructure serving Aborigines, and managed an Aborigine combined development fund.
"Before it came into power last month, the Democratic Progressive Party [DPP] has said that Aborigines have suffered hundreds of years of deprivation, which had not been thoroughly reviewed or corrected during [Taiwan's] democratization and that transitional justice should be promoted," Hung said. "The DPP's so-called transitional justice might appear correct, but it lacks substance and only misleads the public."
She accused the DPP of stalling a bill in the legislature for Aboriginal self-rule, saying the DPP "does one thing and says another."
She added that the KMT remains committed to promoting Aboriginal welfare through the legislation and that the party's legislative caucus is to draft an Aboriginal policy platform.
Comments will be moderated. Keep comments relevant to the article. Remarks containing abusive and obscene language, personal attacks of any kind or promotion will be removed and the user banned. Final decision will be at the discretion of the Taipei Times.