Hung touts draft bill for ethnic equality
'SHAMELESS': KMT official Alex Tsai on Facebook described President Tsai Ing-wen, Taipei Mayor Ko Wen-je and their families as Japanese 'imperial subjects'
Chinese Nationalist Party (KMT) Chairwoman Hung Hsiu-chu (洪秀柱) yesterday visited veterans in Kaohsiung who had been verbally attacked by self-claimed citizen reporter Hung Su-chu (洪素珠), saying that her party would propose draft legislation to ban "discrimination based on ethnicity."
Hung Hsiu-chu visited Chou Fu-wen (周富文) and Peng Tzu-ko (彭子珂), who came to Taiwan with the KMT regime in 1949 and were recently aggressively questioned by Hung Su-chu at Kaohsiung's 228 Peace Park.
During the visit, Hung Hsiu-chu "held their hands to console them and told them that [she] was upset for them," she said in a post on Facebook, adding that she apologized to the veterans on behalf of the KMT "for failing to explain to society the contributions of veterans to Taiwan."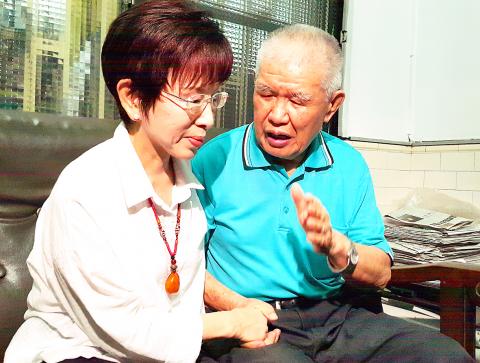 Chinese Nationalist Party (KMT) Chairwoman Hung Hsiu-chu, left, talks to Peng Tzu-ko in Kaohsiung yesterday.
Photo: Chen Wen-chan, Taipei Times
Chou said he belongs to a generation that witnessed tumultuous social upheavals and would not take Hung Su-chu's comments to heart, despite the injustice he suffered, Hung Hsiu-chu said, adding that Chou nevertheless shed tears when expressing his feelings.
Peng shared his life experiences with the KMT chairwoman, including becoming a civil official with the highest grades and being a volunteer for the KMT for 25 years. He told Hung Hsiu-chu that, despite feeling upset about the incident, he would let the matter go, but also expressed his hope that Hung Su-chu would stop her verbal attacks.
"We have to thank these veterans for their contributions to Taiwan's stability and prosperity," Hung Hsiu-chu said, adding that Taiwanese society is composed of good people, but "there is a small group of people who do not understand what veterans contributed to Taiwan."
"The KMT will endeavor with the greatest sincerity to make society understand veterans' contributions and resolve misunderstanding and hatred," she added.
Hung Hsiu-chu said she admires veterans' ability to forgive and hopes that there would be more rational conversation to review history without prejudice.
"I hope that the public can understand that veterans who came to Taiwan decades ago have settled and devoted their lives to Taiwan's prosperity and development. Their efforts should be appreciated and they should not be attacked or humiliated," Hung Hsiu-chu said.
She added that Taiwan should not be further polarized by hatred and that the KMT would propose draft legislation to ban discrimination based on ethnicity, "for the next generation and Taiwan's future."
She called on President Tsai Ing-wen (蔡英文) and the Democratic Progressive Party to support the bill.
Hung Hsiu-chu also visited Taoyuan Veterans Home.
Before Hung Hsiu-chu's Kaohsiung visit, Veterans Affairs Council Director Lee Shying-jow (李翔宙) yesterday morning also visited Chou and Peng, saying that the council would take care of veterans and protect their rights.
While the KMT chairwoman called for rational dialogue and an end to hatred, KMT Central Policy Committee chief executive director Alex Tsai (蔡正元) on Facebook slammed as "shameless" Taiwanese who see themselves as Japanese.
Alex Tsai said Hung Su-chu's belief that she is Japanese "came from [former president] Lee Teng-hui (李登輝) and [Taipei Mayor] Ko Wen-je (柯文哲)," accusing their and Tsai Ing-wen's families of being Japanese "imperial subjects."
He also said the president's call for an end to "ethnic prejudice" was a "political lie," as she and those like her were what caused Hung Su-chu's mindset.
Comments will be moderated. Keep comments relevant to the article. Remarks containing abusive and obscene language, personal attacks of any kind or promotion will be removed and the user banned. Final decision will be at the discretion of the Taipei Times.