Prosecutors raid offices, question Jeffrey Koo Jr
NEIHU PLOT: Allegations arose that CTBC Financial board members or workers might have formed a shell company to purchase land and benefit from the sale
Prosecutors yesterday summoned Chinatrust Charity Foundation chairman Jeffrey Koo Jr (辜仲諒), CTBC Financial Holding (中信金控) chairman Yen Wen-long (顏文隆) and Gobo Group (國寶集團) president Chu Guo-rong (朱國榮) for questioning in connection with judicial investigations into possible financial irregularities in four cases of alleged insider trading, profiteering on real-estate transactions and illegal transfers of company funds.
The Special Investigation Division (SID) of the Supreme Prosecutors' Office, a unit in charge of major corruption and economic crimes, is probing leading financial companies and business tycoons, with billions of New Taiwan dollars reported to have changed hands in a number of allegedly illegal deals.
SID officials said at a media briefing that they raided 58 offices and residences across the nation yesterday to gather evidence, while summoning 94 people for questioning.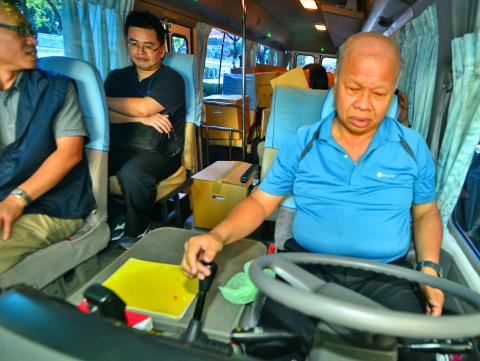 Supreme Prosecutors' Office Special Investigation Division officials sit in a vehicle carrying evidence seized from CTBC Financial Holding Co offices in Taipei yesterday.
Photo: Wang Yi-sung, Taipei Times
The operation mobilized 18 prosecutors, 218 criminal investigators, 150 prosecutor-investigator officials and 62 judicial police officers, they said.
"The SID is working with the Taipei District Prosecutors' Office on judicial probes into CTBC Financial Holding and Gobo Group on possible breaches of the Securities and Exchange Act (證券交易法) and the Banking Act (銀行法)," SID spokesman Kuo Wen-tung (郭文東) said.
Aside from his role with the foundation, Koo is a major shareholder in CTBC Financial Holding and is known as the man responsible for the company's day-to-day management.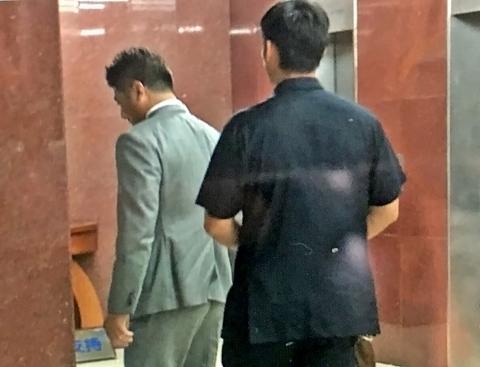 Chinatrust Charity Foundation chairman Jeffery Koo Jr, left, and Gobo Group president Chu Guo-rong arrive at the Supreme Prosecutors' Office in Taipei yesterday.
Photo: CNA
The SID said that from 2003 to 2007, CTBC Financial Holding illegally transferred company assets worth about US$300 million into accounts controlled by Koo on the pretext of investing in subsidiaries.
Prosecutors said board members or employees of CTBC Financial Holding might have formed a shell company to partner with publicly listed Chong Hong Construction Co (長虹建設) to purchase a plot of land in Taipei's Neihu District (內湖) to construct an office building.
Prosecutors said collaborators in the deal sold the land to the financial holding company's banking unit, CTBC Bank Co Ltd (中國信託銀行) for more than NT$5 billion (US$155.2 million) and pocketed the difference.
CTBC Financial Holding bought MetLife Taiwan Life Insurance Co (大都會人壽) and renamed it CTBC Life Insurance Co (中信人壽) and later bought Taiwan Life Insurance Co (台灣人壽) and merged it with CTBC Life Insurance, keeping the Taiwan name.
The SID accused the holding company of insider trading and financial irregularities during the purchases last year, saying that the company used funds from CTBC Life Insurance to purchase collateral from Gobo Group, with Gobo making NT$200 million to NT$300 million from the deal.
Chong Hong chairman Lee Wen-tsao (李文造) was also summoned for questioning yesterday.
CTBC Financial Holding and Chong Hong Construction issued statements saying that the land transaction was executed according to the law, adding that they hope that the truth would come out as soon as possible.
Prosecutors and judicial officials were seen carrying dozens of cartons of documents after raids at CTBC Financial Holding's headquarters, its company offices and other locations.
Prosecutors also summoned tycoon Kuo Chuan-ching (郭銓慶), former chairman of construction firm Rich Development Co (力麒建設), who emerged after questioning yesterday evening.
The questioning was still ongoing as of press time last night.
Additional reporting by CNA
Comments will be moderated. Keep comments relevant to the article. Remarks containing abusive and obscene language, personal attacks of any kind or promotion will be removed and the user banned. Final decision will be at the discretion of the Taipei Times.