Clinton has the numbers: reports
TIPPING POINT: The AP and NBC reported that Clinton reached the 2,383 delegates needed to become the Democratic nominee with her victory in Puerto Rico
US presidential hopeful Hillary Rodham Clinton has reached the number of delegates needed to capture the Democratic nomination, according to tallies by two US media outlets, as she and rival Bernie Sanders faced off yesterday in contests in six states.
A former senator and US secretary of state, Clinton would be the first woman to ever be the presidential candidate of a major political party in the country's history.
However, Sanders has vowed to keep up the fight in what has been a long and increasingly antagonistic Democratic primary race.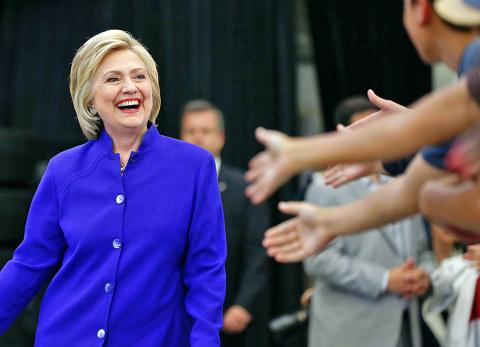 Democratic US presidential hopeful Hillary Rodham Clinton yesterday greets supporters during a rally at Long Beach City College on the final day of campaigning in California.
Photo: AFP
After the Associated Press (AP) and NBC on Monday night said Clinton had clinched the number of delegates needed to win her party's nomination, a Sanders campaign spokesman castigated what he said was the media's "rush to judgement."
Under Democratic National Committee (DNC) rules, most delegates to the party's July 25 to July 28 convention are awarded by popular votes in state-by-state elections.
However, the delegate count also includes "superdelegates" — party leaders and elected senators, members of the US Congress and governors — who can change their mind at any time.
For that reason, the DNC has echoed the Sanders campaign, saying the superdelegates should not be counted until they actually vote at the Philadelphia convention.
However, that has not deterred the news media.
The AP and NBC reported that Clinton reached the 2,383 delegates needed to become the presumptive Democratic nominee with a decisive weekend victory in Puerto Rico, a US territory, and a burst of last-minute support from superdelegates.
"According to the news, we are on the brink of a historic, historic, unprecedented moment," Clinton told a rally in Long Beach, California, shortly after the AP report. "But we still have work to do, don't we? We have six elections tomorrow and we're going to fight hard for every single vote, especially right here in California."
However, Sanders spokesman Michael Briggs dismissed the AP and NBC tallies.
"Our job from now until the convention is to convince those superdelegates that Bernie is by far the strongest candidate against Donald Trump," he said.
Yesterday, voters were to go to the polls in California, New Jersey, Montana, North Dakota, South Dakota and New Mexico.
However, the outcome in California, the last and largest state to vote, could help shape whether Clinton will gain traction in her efforts to unify the party behind her.
Comments will be moderated. Keep comments relevant to the article. Remarks containing abusive and obscene language, personal attacks of any kind or promotion will be removed and the user banned. Final decision will be at the discretion of the Taipei Times.