Premier clarifies Jinshan reactor stance
CONTENTIOUS: Only if every effort has been made to save energy, 'safety is guaranteed and a social consensus reached' would two nuclear plants be reactivated, Lin Chuan said
Premier Lin Chuan (林全) yesterday gave more details about the preconditions for the possible reactivation of the No. 1 reactor at the Jinshan Nuclear Power Plant in New Taipei City's Shihmen District (石門), and apologized for the flooding of Taiwan Taoyuan International Airport and controversial remarks about Taiwanese "comfort women" he made last week.
Lin made the remarks during a question-and-answer session at the legislature.
Chinese Nationalist Party (KMT) Legislator Alicia Wang (王育敏) asked Lin how much electricity the government has helped save, reminding him that in March last year the leaders of 13 cities and counties, led by by-then presidential candidate Tsai Ing-wen (蔡英文), vowed to launch an initiative to cut energy consumption.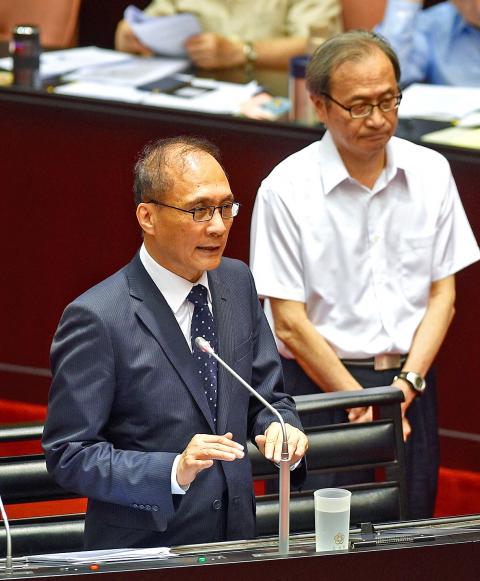 Premier Lin Chuan, left, and Atomic Energy Council Minister Hsieh Shou-shing attend a question-and-answer session at the legislature in Taipei yesterday.
Photo: Lo Pei-der, Taipei Times
Lin said the administration plans to cut energy consumption equivalent to the electricity generating capacity of the Fourth Nuclear Power Plant in New Taipei City's Gongliao District (貢寮), but it has been in office less than one month.
"The city and county heads have been in office for quite a while, and places such as Tainan and Kaohsiung, and Pingtung, Yunlin and Changhua counties are all using more electricity than ever," Wang said.
"President Tsai in August last year guaranteed that there would be no power shortages during the Democratic Progressive Party's [DPP] time in office, and Minister of Economic Affairs Lee Chih-kung (李世光), before he was sworn in, said that there would be no electricity shortage for the next two years. However, 10 days after Lee took office, he said: 'There is no 100 percent guarantee of an uninterrupted power supply,'" Wang said.
Wang said Lin's statement that he is considering the reactivation of the No. 1 reactor at the Jinshan Nuclear Power Plant had upset environmental advocacy groups and contradicted a DPP anti-nuclear power pledge.
"The goal of a 2025 nuclear-free homeland is unchanged, and the plan to retire the Jinshan plant and the Guosheng Nuclear Power Plant in New Taipei City's Wanli District (萬里) as scheduled is also unchanged," Lin said.
Lin said the government would exhaust every possible avenue in its bid to save energy, to develop renewable energy sources and to enhance the management of electricity usage and distribution.
"Only when three preconditions — all ways [to save energy] have been exhausted, safety is guaranteed and a social consensus reached — would the reactivation of the Jinshan and Guosheng nuclear power plants be considered," Lin said.
Wang also pushed Lin about the flooding of the Taoyuan airport, which "might have made tourists think that they had arrived in a third-world nation," and claimed that the Cabinet's "crisis management" skills were not up to par with the administration of former premier Simon Chang (張善政), which she said responded to February's Meinong (美濃) earthquake quickly and effectively.
Wang demanded Lin apologize to the public for the airport flooding, as "the Ministry of Transportation and Communications and the Executive Yuan should also be held accountable instead of just sacking airport officials," she said.
Lin consented and apologized.
Lin was also asked to apologize for alleging that "comfort women," were "either forced or had volunteered" to work as prostitutes for the Imperial Japanese Army.
He made the remarks on Friday last week when responding to a question by KMT Legislator Alex Fai (費鴻泰) concerning "whether comfort women were forced or joined voluntarily."
Lin said "both were possible, with people having different views on the issue."
In response Fai said: "You are a shame to the Chinese nation; they are our Chinese women."
The Executive Yuan quickly issued two press releases after Friday's question-and-answer session.
The first was to "supplement" what the premier had said in the legislature, saying that Lin admitted to having little understanding of the matter and is willing to get to know more about the facts, adding that even so-called "voluntary enrollment" was out of economic and gender oppression.
Lin said that the government would "proactively and assertively negotiate with the Japanese government" to help older people who had suffered greatly obtain the justice they deserve.
The second statement, released an hour after the first, said the premier wished to apologize for his "incomplete and indiscreet" remarks that "might have hurt some and caused trouble to society."
Comments will be moderated. Keep comments relevant to the article. Remarks containing abusive and obscene language, personal attacks of any kind or promotion will be removed and the user banned. Final decision will be at the discretion of the Taipei Times.