Tsai's approval rating low for a new government: poll
President Tsai Ing-wen (蔡英文) has an approval rating of about 50 percent, lower than the usual level of support for a recently elected government, according to a poll released yesterday by Taiwan Thinktank, which found that people oppose the import of pork with traces of ractopamine and the administration's use of "Chinese Taipei" when referring to the nation at this year's annual World Health Assembly (WHA).
The poll found that 52.4 percent of the respondents were satisfied with Tsai's performance, with 12.5 percent saying they are dissatisfied and 35.1 percent saying they were undecided.
"This demonstrates that Tsai's honeymoon period is proving less 'sweet' than expected," said Trend Survey and Research Co chief executive officer Chou Yung-hong (周永鴻) — whose firm was commissioned to conduct the poll.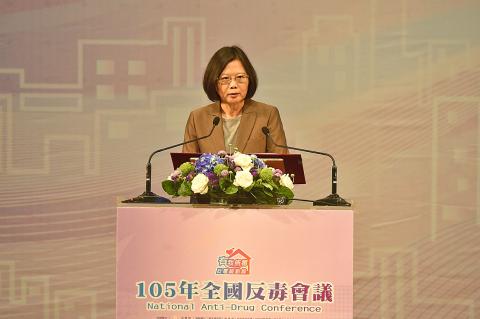 President Tsai Ing-wen yesterday delivers a speech at the National Anti-drug Conference in Taipei.
Photo: George Tsorng, Taipei Times
"An approval rating of just more than 50 percent is actually fairly low for a recently elected government, because we normally see ratings of more than 60 or 70 percent," Chou said.
He attributed the approval rating to swing voters reserving judgement on Tsai's administration following several unpopular policy decisions.
"Taiwanese are not very satisfied on several different issues, but because it is still Tsai's honeymoon period, they are willing to give the Democratic Progressive Party [DPP] more time to find a solution," he said, adding that as approval of Tsai's performance was closely linked to party identification, swing voters unaffiliated with any party were the main reason for her high "undecided" figure, with 60 percent of respondents who said they are unaffiliated with any political party saying they are undecided.
Taiwan Thinktank deputy executive director Lai I-chung (賴怡忠) said the relatively low approval rating might also be attributable to the drawn-out transition of power.
"The DPP government is already starting to lose its 'freshness' with the voters," he said, adding that while Tsai only took office last month, there was a relatively great expectation for her to start "delivering," because her party had been "quasi-governing" since February, when it took control of the Legislative Yuan as the majority party.
Of the specific issues surveyed, there was broad support for the government's move to ban mining in national parks, with 75.1 percent of respondents supporting the policy, including 43.6 percent of people living in Yilan, Hualien and Taitung counties, who would bear the brunt of the decision's economic impact.
However, 46.7 percent of respondents disapproved of Minister of Health and Welfare Lin Tzou-yien's (林奏延) use of "Chinese Taipei" to refer to the nation in a speech at the WHA last month, with 72.4 percent saying the minister should use "Taiwan" to refer to the nation in future meetings.
More than two-thirds of the respondents supported maintaining a "zero tolerance" policy for traces of ractopamine in domestic pork, even when the question was primed by telling respondents that a UN committee has approved limited use of the feed additive.
"Taiwanese do not care about international or US standards — they want zero tolerance," Chou said. "This deflates the theory that public opinion will change if you step up publicity efforts."
The survey was conducted on Monday and Tuesday and had an effective sample of 1,157, with a margin of error of 2.88 percentage points.
Comments will be moderated. Keep comments relevant to the article. Remarks containing abusive and obscene language, personal attacks of any kind or promotion will be removed and the user banned. Final decision will be at the discretion of the Taipei Times.