Premier promises to reduce land grabs
PRIME PROPERTY: Premier Lin Chuan said Taoyuan's location between Taipei and Hsinchu made it an ideal location for the government's 'Asian Silicon Valley' project
Premier Lin Chuan (林全) yesterday vowed to reduce land expropriation and enhance communication with the public as the government pushes forward with the Taoyuan Aerotropolis project, which is to be a key component of a larger "Asian Silicon Valley" project that President Tsai Ing-wen (蔡英文) proposed during her campaign.
The premier made the remarks during a visit to Taoyuan to inspect the future site of the Asian Silicon Valley project, where he was briefed about a dispute between area residents and the government over the Taoyuan Aerotropolis project.
"Politically speaking, [the government] should reduce unnecessary land expropriation to avoid delays in the project's progress due to protests by local residents," Lin said in response to media queries for comments on the stalled project.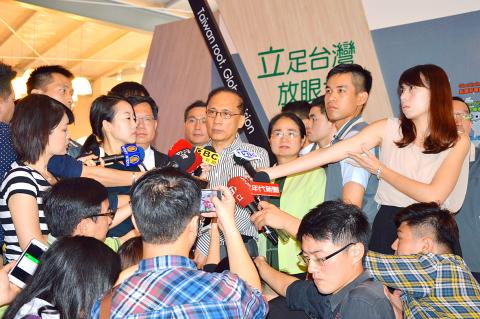 Premier Lin Chuan, center, talks to reporters in Taoyuan yesterday.
Photo: Hsieh Wu-hsiung, Taipei Times
"The government should also do its best to communicate with the public. I believe that [Taoyuan Mayor] Cheng Wen-tsang (鄭文燦) would help negotiate and he should not only follow the rules and regulations, but also pay attention to things that have been overlooked."
"Better communication with the public should be the government's attitude when dealing with land expropriation issues," the premier added.
The Taoyuan Aerotropolis project, proposed by the then- Taoyuan County Government, comprises a new town around Taiwan Taoyuan International Airport with a free-trade zone, an expanded airport zone, an industrial exposition zone, an industrial zone, an agricultural zone, a coastal recreation zone, and residential and commercial zones, all of which would cover 6,845 hectares.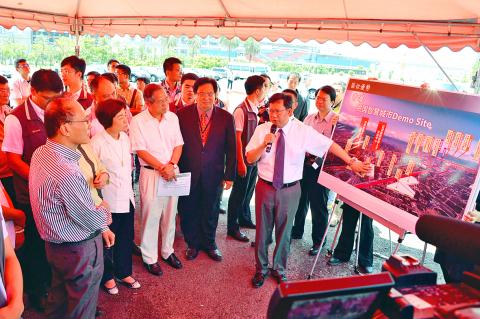 Premier Lin Chuan, front left, yesterday listens in Taoyuan to a brief on the "Asian Silicon Valley" project.
Photo: Hsieh Wu-hsiung, Taipei Times
In addition to land that has already been expropriated or developed, 3,130 hectares is to be taken from private owners, which has triggered mass protests from landowners, who took to the streets and filed lawsuits. In 2013, a farmer committed suicide, reportedly in protest over the land grabs.
"Taipei and Hsinchu are the right and left hands of Taoyuan, with Taipei being an international metropolis and Hsinchu being an important research and development hub for the IT industry," Lin said. "We have chosen Taoyuan as the base for the Asian Silicon Valley project to revive the economy in northern Taiwan."
Lin said that Taoyuan is also a good choice due to its robust industry, international airport and the Aerotropolis project.
He added that while the entire Asian Silicon Valley might take a long time to complete, the government would maintain its focus on it and regularly check on its progress.
Comments will be moderated. Keep comments relevant to the article. Remarks containing abusive and obscene language, personal attacks of any kind or promotion will be removed and the user banned. Final decision will be at the discretion of the Taipei Times.