Negotiations end in decision to abolish Red Cross Act
The first policy negotiations between the Executive Yuan and the Legislative Yuan on Monday night resulted in a decision to abolish the Red Cross Society Act of the Republic of China (中華民國紅十字會法), the Executive Yuan said.
The New Power Party (NPP) and the Democratic Progressive Party (DPP) in February proposed abolishing the act, saying that the society had special legal status and was not subject to the Civil Associations Act (人民團體法) and the Charity Donations Act (公益勸募條例), adding that the abolishment of the act would advance the implementation of "transitional justice."
While the NPP on May 3 moved to have the abolishment measure sent directly to a second reading, bypassing all discussion in committees, the Chinese Nationalist Party (KMT) objected, resulting in yesterday's cross-caucus negotiation.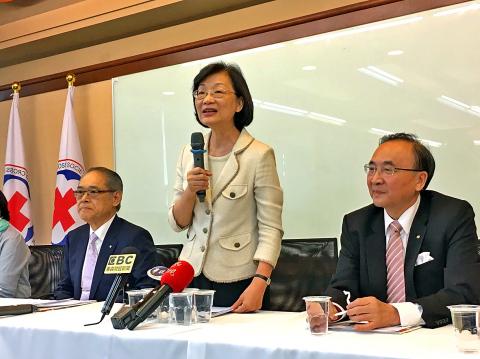 Republic of China Red Cross Society chairperson Wang Ching-feng, center, speaks during a new conference in Tapei yesterday.
Photo: Yang Mien-chieh, Taipei Times
However, the negotiations failed to reach a consensus, with the legislature to vote on the annulment of the act in early July at the latest, according to legislative procedures.
In response to protests from the Red Cross Society since the annulment was first proposed, Executive Yuan spokesperson Tung Chen-yuan (童振源) said the society misunderstood the decision.
"The society's establishment has its historical background and necessity, and we do not doubt it has contributed positively to the nation and to the public, but there also exist certain flaws in how the society functions, including the use of its charity funds and the election of its chairperson," Tung said.
Negotiations saw the Executive Yuan's support for the legislature's motion to abolish the act so the society becomes more transparent and healthy in its organization, thus being of greater benefit to the public, Tung said.
Once the abolishment measure is passed, the central government would no longer have to assign an official to sit on the society's board, Tung said, adding that the organization would be regulated in accordance with the Civil Associations Act.
As for the groups's fundraising drives, Tung said that if the abolishment motion is ratified, the society's fundraising would have to follow regulations according to the Charity Donations Act.
Society chairperson Wang Ching-feng (王清峰) said that the perceived flaws in how the group functions should have been rectified via investigation or legal action rather than by abolishing the act, adding that the decision has impinged on the reputation of a humanitarian organization.
Additional reporting by Yang Mien-chieh
Comments will be moderated. Keep comments relevant to the article. Remarks containing abusive and obscene language, personal attacks of any kind or promotion will be removed and the user banned. Final decision will be at the discretion of the Taipei Times.