Ministry drops bid to cancel holidays
EQUALITY FOR ALL: The minister of labor said that the ministry has been working on a new amendment that would institute a 40-hour work week with no exceptions
The Ministry of Labor will not continue pursuing its proposal to cancel seven national holidays and will not contest the legislature's decision to return proposed amendments to a bill by submitting revisions to the amendments, Minister of Labor Kuo Fan-yu (郭芳煜) said yesterday.
The legislature last month voted to uphold the Health and Social Welfare and Environmental Hygiene Committee's decision to return the ministry's planned holiday cuts included in a proposed amendment to the Enforcement Rules of the Labor Standards Act (勞動基準法施行細則) that sought to reduce the annual number of holidays for employees by seven days.
As a returned proposal must be revised or withdrawn by the proposing agency within two months, the ministry's abstention from submitting revisions to the amendment would result in its expiry on June 21 and the restoration of the national holidays that were previously canceled, Kuo said.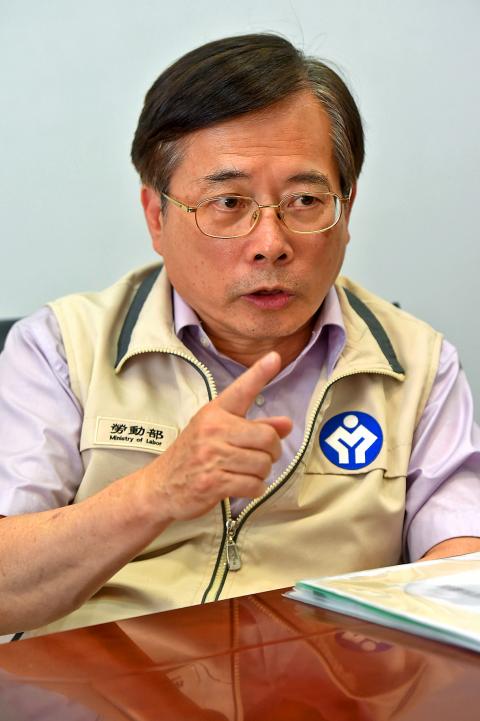 Minister of Labor Kuo Fan-yu gestures during an interview in Taipei yesterday.
Photo: Chien Jung-fong, Taipei Times
The amendment was conceived to supplement the amended Labor Standards Act (勞動基準法) to reduce work hours for private-sector employees to 40 hours per week, but the bill allowed exceptions to the rule for some employers and proposed to cut national holidays that are only observed by the private sector, he said.
Kuo said that the legislature had opposed the bill because of the contentious exceptions and holiday cuts, adding that the ministry had "learned its lesson" from the clash with legislators.
The ministry has been working on a new amendment, which is to give all private-sector employees one fixed day off per week not subject to changes or cancelation and another flexible day off that may be rescheduled on condition of paying double wages for the day, he said.
Kuo said that the amendment would institute a 40-hour work week for the entire private sector without exceptions, adding that to synchronize the holiday schedule for private and public-sector employees, the amendment would authorize the Ministry of the Interior as the sole authority in setting national holidays.
Employers voiced their support for the new proposal and told the ministry that they prefer the amendment to pass "as soon as possible," Kuo said, adding that the labor ministry is open to the option of expediting the process by allowing the legislature to introduce the bill.
Representatives from labor organizations and employers are to convene to work out the details at the earliest possible date, he added.
Comments will be moderated. Keep comments relevant to the article. Remarks containing abusive and obscene language, personal attacks of any kind or promotion will be removed and the user banned. Final decision will be at the discretion of the Taipei Times.