Wholesaler sold expired seafood to luxury hotels
STORAGE DEPOTS SEALED: Yuyang International was found to be selling tiger shrimps purchased in 2005 and atka mackerel bought in 2007, a health official said
A seafood wholesaler in New Taipei City was raided on Tuesday for allegedly selling expired frozen seafood and an investigation into its products continued yesterday.
Yuyang International (漁洋國際) was found to be storing large amounts of frozen seafood that had expired or were without expiration dates.
The New Taipei City Department of Health said 23,417kg of suspicious products had been confiscated and sealed up at the company's three storage depots, but the probe was ongoing.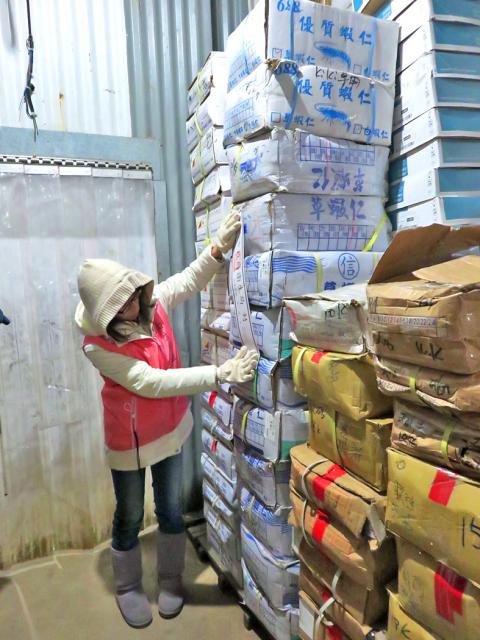 A worker from the New Taipei City Department of Health seizes products at seafood wholesaler Yuyang International on Tuesday.
Photo: courtesy of New Taipei City Department of Health
"So far, we have not uncovered all the previously expired products, because we are still examining the three storage depots. We hope to finish the investigation by today," New Taipei City Department of Health Deputy Commissioner Hsu Chao-chen (許朝程) said.
Hsu said most frozen seafood has a storage life of about two years, but they found 12 types of product purchased before 2011, including tiger shrimps purchased in 2005 and atka mackerel purchased in 2007.
The department said that 170 different expired products were sold last year. Restaurants at several luxury hotels — the Howard Hotel, Hotel Royal-Nikko Taipei, the Westin Taipei, Tien Lai Spring Resort, Palais de Chine and the Fleur de Chine Hotel — have purchased seafood products from Yuyang International.
In addition, Hsiunghsun Co (雄勳) of Taichung, was found to have altered the expiration dates of spice products and sold them to food processing companies, the Food and Drug Administration (FDA) said.
The FDA said 23 tonnes of expired spice products were discovered and sealed at the firm's storage depot.
The owner of the company admitted that it changed the expiration dates and sold five batches of a meat seasoning powder, seven batches of garlic extract, three batches of rosemary seasoning and two batches of soy milk powder — 475kg of ingredients — between March 2014 and last month, the agency added.
A major meat and poultry processing company, CP Taiwan (台灣卜蜂), was among the firms that had purchased expired spices from Hsiunghsun, adding them to 10 processed chicken and pork products.
The FDA said about 11,000kg of suspected expired spices were found at its storage depot and the local health bureau had ordered the firm to stop shipping products.
Local health bureaus had informed retailers to recall the problematic products, it said.
The FDA said the two companies face a fine of between NT$60,000 and NT200 million (US$1,835 and US$6.12 million) for violating the Act Governing Food Safety and Sanitation (食品安全衛生管理法) and they could also be forced to shut down.
Comments will be moderated. Keep comments relevant to the article. Remarks containing abusive and obscene language, personal attacks of any kind or promotion will be removed and the user banned. Final decision will be at the discretion of the Taipei Times.