MRT murderer executed with appeal unheard
PROPER PROCEDURE? Cheng's lawyers headed to the ministry last night to protest against the 'rushed decision,' saying they were preparing to file an appeal
Cheng Chieh (鄭捷) — who killed four people and injured 22 in a stabbing frenzy on a Taipei MRT train in 2014 — was executed at 8:47pm last night at the Taipei Detention Center (臺北看守所), Deputy Minister of Justice Chen Ming-tang (陳明堂) said last night.
The Ministry of Justice signed the execution order at 5pm yesterday, and Cheng was executed with three gunshots at the center in New Taipei City's Tucheng District (土城), Chen said.
Legal experts said the process must have been sped up and expedited by ministry officials, because it was an unusually short time — 18 days — between the Supreme Court upholding Cheng's death sentence on April 22 and the execution taking place.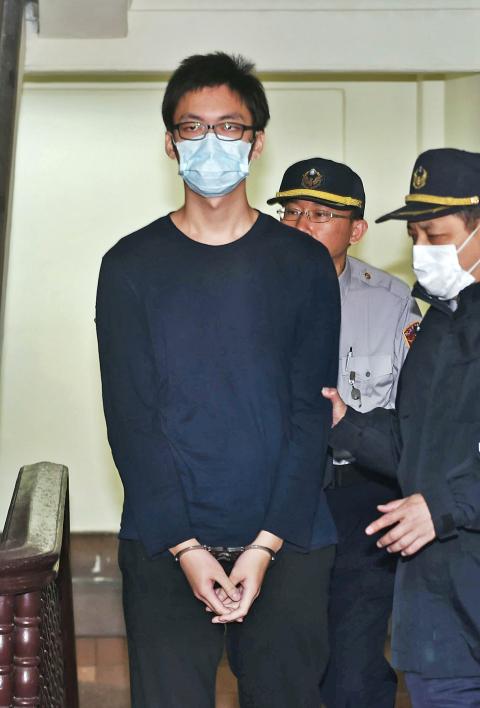 Cheng Chieh is escorted from a Taipei court on Dec. 22 last year.
Photo: Fang Pin-chao, Taipei Times
Cheng's lawyers headed to the ministry last night following the announcement to protest against what they called a "rushed decision," as they were still preparing to file an extraordinary appeal against the death sentence.
Some political commentators have questioned whether there might be a political motive for carrying out the execution so soon, saying that Minister of Justice Luo Ying-shay (羅瑩雪) and President Ma Ying-jeou (馬英九) are trying to calm rising discontent regarding recent judicial decisions.
When speaking to the media yesterday afternoon, Luo said she did not know when Cheng would be executed.
Cheng reportedly told the police directly after his MRT stabbing rampage that he hoped he would be given the death sentence for his crimes and said he had been planning a mass murder since he was in fifth grade.
Cheng said he was under great pressure from his parents and often contemplated suicide, but he did not have the courage to kill himself.
"I had to murder people so I would be convicted for murder and given the death sentence. Only then would my miserable life end," Cheng reportedly said.
Comments will be moderated. Keep comments relevant to the article. Remarks containing abusive and obscene language, personal attacks of any kind or promotion will be removed and the user banned. Final decision will be at the discretion of the Taipei Times.