Landslide buries 33 workers at Chinese hydropower project
Rescuers yesterday searched for 33 construction workers missing in a landslide at the site of a hydropower project following days of heavy rain in southern China. Eight other workers were pulled out alive, officials and state-run media reported.
Rocks and mud with a volume of 100,000 cubic meters buried an office building and the workers' living area at the site in mountainous Taining County in China's Fujian Province at about 5am yesterday, according to a Web site run by the Chinese Communist Party's Publicity Department.
State broadcaster China Central Television later reported that seven workers were rescued alive, with injuries including broken bones. By evening, rescuers had detected suspected signs of life at three spots, the broadcaster reported. Mudslides and flooding had made some sections of roads unpassable, hindering rescuers' efforts to get heavy machinery to the site.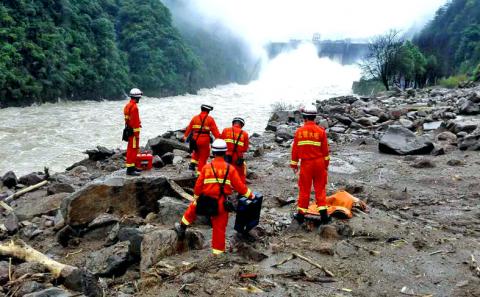 A paramilitary rescue team search for signs of life in China's Fujian Province yesterday.
Photo: EPA
An official at the county department said by telephone that the cause of the landslide was still unclear, but that the area had seen heavy rainfall in the past few days.
Heavy rain has affected much of southern China since Wednesday, triggering floods and landslides.
Xinhua news agency reported that a 75-year-old woman and her three-year-old great-grandson were washed away in an overflowing river in Hubei Province.
The Taining County official, surnamed Wei (魏), said firefighters and police were attempting to reach the buried.
Comments will be moderated. Keep comments relevant to the article. Remarks containing abusive and obscene language, personal attacks of any kind or promotion will be removed and the user banned. Final decision will be at the discretion of the Taipei Times.