Ministry let fraudster escape: legislator
The Ministry of Justice "abetted the escape" of Tseng Chao-jung (曾昭榮), who was indicted for allegedly scamming NT$12.2 billion (US$377.4 million at current exchange rates) from investors, by setting his bail at NT$1 million, Democratic Progressive Party Legislator Karen Yu (余宛如) said yesterday.
Yu, accompanied at a news conference in Taipei by a dozen investors who said they had been defrauded by Tseng's "cabal of con artists," characterized the ministry's handling of the case as a "dereliction of duty" and accused the government of leaving the victims "high and dry."
From 2011 to 2014, Tseng and his cohorts allegedly sold through his corporations Tebao Co (德寶公司) and Shuanying Co (雙盈公司) what he claimed were unlisted shares of Eslite Spectrum Corp (誠品生活) and Taiwan Taxi Co (台灣大車隊) to more than 3,000 people for a total of NT$12.2 billion, Yu said.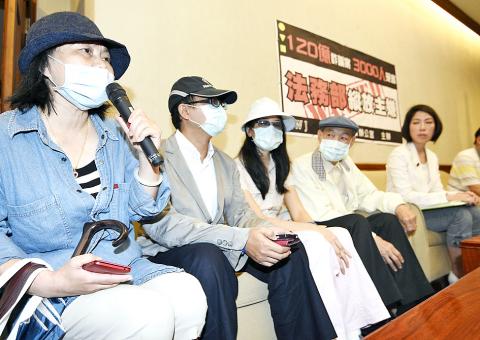 Democratic Progressive Party Legislator Karen Yu, right, listens as a defrauded investor speaks at a news conference in Taipei yesterday.
Photo: Chen Chih-chu, Taipei Times
Yu said that the Taipei District Prosecutors' Office wrongfully acquiesced to Tseng's request for bail on Feb. 24, 2014, allowing him to flee and leaving no assets behind with which to compensate victims.
The ministry's failure to keep Tseng in custody and freeze his assets was a dereliction of duty that aided in his escape, Yu said, adding that it was suspicious that prosecutors chose to charge Tseng and his accomplices with violations of the Banking Act (銀行法) rather than with fraud under the Criminal Code.
Tseng's shell companies never used investors' funds to buy shares, which Yu said was "plainly indicative of a malicious intent to commit fraud."
Yu cited unnamed sources who said prosecutors indicted Tseng under the Banking Act because they were "too lazy" to make a case for fraud charges, which would have required them to interview thousands of investors and audit his finances.
Wang Yun-chun (王允中), of the Financial Supervisory Commission's Banking Bureau, said that Tseng's alleged offenses constituted violations of the Banking Act, which were serious crimes.
Deputy Minister of Justice Chen Ming-tang (陳明堂) said the ministry had no say on whether bail is allowed in a case, as that is a decision made by judges.
At the time charges were filed against Tseng, convictions for violations of the act carried heavier sentences than those for fraud, Chen said..
The laws governing fraud were only amended later to carry heftier penalties, Chen added.
There was no legal mechanism at the time to freeze Tseng's assets, Chen said, adding that revisions that are to go into effect in July address this problem by authorizing judges to seize property in absentia, including assets that have been transferred to a third party or sent abroad.
Additional reporting by Huang Hsin-po
Comments will be moderated. Keep comments relevant to the article. Remarks containing abusive and obscene language, personal attacks of any kind or promotion will be removed and the user banned. Final decision will be at the discretion of the Taipei Times.