Poll shows Taiwanese do not believe in 'one China'
INTIMIDATION: Beijing's threat to reduce economic exchanges and insistence that Tsai Ing-wen abide by the '1992 consensus' seems to have the opposite effect
Most Taiwanese do not subscribe to the "one China" policy, or the idea that Taiwan is part of China, a survey conducted by the Taiwan Cross-Strait Policy Association showed.
According to the survey, 59.7 percent of respondents said that president-elect Tsai Ing-wen (蔡英文) "should not state in her inauguration speech that both sides [of the Taiwan Strait] belong to 'one China,' while 22 percent said she should," association secretary-general Anson Hung (洪耀南) told a news conference in Taipei.
"Asked if they think Tsai should give in if China openly threatens to reduce the number of Chinese tourists to Taiwan, 60.4 percent said they still believed that she should not say Taiwan and China are parts of 'one China,' while 24.7 percent said she should," Hung said.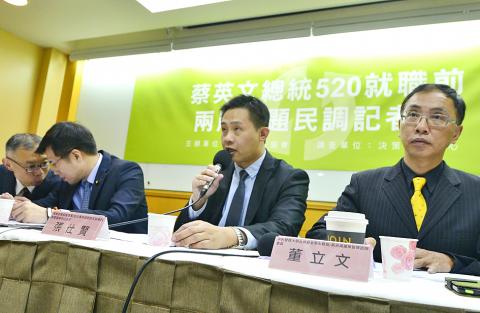 Taiwan Cross-Strait Policy Association member Chang Shih-hsien speaks during a news conference announcing the results of the organization's new poll in Taipei yesterday.
Photo: Wang Yi-sung, Taipei Times
Asked if Tsai should give in to the threat that China would suppress Taiwan's international space, 60 percent of respondents said she should not; 57.2 percent also said she should not give in to Beijing's threat of cutting cross-strait economic exchanges.
"The results of the survey show that, no matter how China pressures or threatens Taiwan, the majority of the public still do not agree with the idea that Taiwan and China belong to 'one China,'" Hung said.
Democratic Progressive Party Legislator Lo Chih-cheng (羅致政) told the news conference that the results of the association's survey are similar to those of other polls conducted by other organizations as well as the Mainland Affairs Council, and urged Beijing to review those results as well.
"Leaders of a democracy should act according to the will of the majority, and the poll shows that Beijing's idea of 'one China' is unacceptable to most people in Taiwan, and it would be difficult for Tsai to go against the majority," Lo said.
"Cross-strait relations can progress more smoothly if it remains ambiguous to a certain extent, so Beijing should not be so eager to break that ambiguity," Lo said.
Chiu Chui-cheng (邱垂正), an associate professor at National Quemoy University's Department of International and Mainland China Affairs, said that China often calls on Taiwan to respect the opinion of its 1.3 billion people, but "what qualification does the Chinese leadership have to make that call when it does not even respect the opinions of its people and restricts the freedom of speech?"
As Tsai insists that the core of her cross-strait policy is maintaining the "status quo" and refuses to recognize the so-called "1992 consensus," Beijing has stepped up its calls for Tsai to abide by the "consensus," while threatening that refusal to do so may lead to serious consequences in cross-strait exchanges.
Although Beijing did not confirm it, there have been rumors that a sharp decline in the number of Chinese tourists visiting Taiwan following Tsai's election is a result of China's protest over her cross-strait stance.
The poll, conducted from Monday to Wednesday, collected 1,072 valid samples. It has a confidence level of 95 percent and a margin of error of 2.99 percentage points.
Comments will be moderated. Keep comments relevant to the article. Remarks containing abusive and obscene language, personal attacks of any kind or promotion will be removed and the user banned. Final decision will be at the discretion of the Taipei Times.