Ministry does U-turn on Kenya suspects
After reeling from criticism and public pressure, officials at the Ministry of Justice reversed their stance on the deportation of Taiwanese from Kenya to China, making public statements yesterday to say that Taiwan has legal jurisdiction over its citizens and needs to negotiate with China on the handling of the suspects.
Deputy Minister of Justice Lin Hui-huang (林輝煌) said it came down to an issue of "concurrent jurisdiction," in that both Taiwan and China have legal jurisdiction with regard to such cases and therefore it must be handled by cross-strait negotiations.
In the Kenya case, in which the suspects allegedly engaged in telecoms fraud, "Taiwan has jurisdiction because it involves Taiwanese nationals, but China insists that it has jurisdiction because the victims are Chinese nationals," Lin said.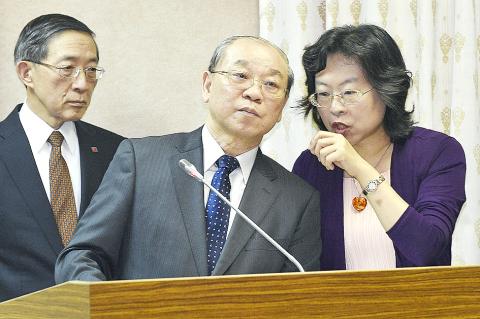 Vice Minister of Justice Lin Hui-huang, center, yesterday listens to Tai Tung-li, deputy director of the ministry's Department of International and Cross-Strait Legal Affairs , right, during a question-and-answer session at the legislature in Taipei.
Photo: Chen Chih-chu, Taipei Times
Under such conditions of "concurrent jurisdiction," the states involved must convene negotiations, he said at the legislature in Taipei.
"Therefore, our ministry will work with the Mainland Affairs Council and the Ministry of Foreign Affairs to attain the result that conforms to the law, while respecting our nation's dignity and sovereignty," he said.
Legislators lambasted ministry officials, in particular Tai Tung-li (戴東麗), deputy director of the ministry's Department of International and Cross-Strait Legal Affairs, who on Tuesday suggested that Beijing had the legal right to deport the Taiwanese to China.
New Power Party Legislator Huang Kuo-chang yesterday holds a placard and questions the justice minister about the Kenyan deportation case during a question-and-answer session at the legislature in Taipei.
Photo: Chen Chih-chu, Taipei Times
"In the Kenya incident, the whole nation should unite together to help our fellow citizens, but we have some government officials who are letting us down," Democratic Progressive Party (DPP) Legislator Lo Chih-cheng (羅致政) said. "Tai said China taking our citizens by force from Kenya conforms to principles of international criminal jurisdiction. Why did she take China's side?"
Fellow DPP Legislator Tsai Shih-ying (蔡適應) questioned Tai's stance that China's move conformed to international law.
Tai responded by saying that China has jurisdiction in the case, while Taiwan also has jurisdiction.
China's Taiwan Affairs Office spokesman An Fongshan (安峰山) yesterday said that Taiwanese should look at the issue from the victims' viewpoint.
"These offenders carried out their criminal activities in a foreign country. Victims were all Chinese residents, so of course, China has jurisdiction in this case," An said.
An said China's justice agencies would conduct a thorough and detailed investigation, during which the legal rights of the Taiwanese suspects would be protected.
He added that many Chinese citizens were victims of the fraud, including the elderly, teachers, students, farmers, laborers and pensioners, some of whom lost their life savings, lost money they needed to treat illnesses or even committed suicide.
Officials at the Chinese Ministry of Public Security yesterday said that they have jurisdiction to investigate the group of suspects.
"In these cases, when Taiwan and China handle it separately, these criminals often do not receive their deserved punishment and we cannot give the defrauded money back to the victims," the officials said.
In the past two years, officials said Kenyan authorities had arrested 67 people from China and 50 from Taiwan in two major busts of telecom fraud rings targeting people living in Beijing, Jiangsu, Sichuan, Hunan and five other Chinese provinces.
Comments will be moderated. Keep comments relevant to the article. Remarks containing abusive and obscene language, personal attacks of any kind or promotion will be removed and the user banned. Final decision will be at the discretion of the Taipei Times.