Lin Chuan introduces future Cabinet
EXPERIENCED TEAM: The premier-designate said that all of the confirmed Cabinet members have served in government positions and he has worked well with them
Premier-designate Lin Chuan (林全) yesterday introduced eight future Cabinet members, including the vice premier, the Cabinet spokesman, four ministers without portfolio and the future minister of health and welfare, to the media.
Speaking at a news conference yesterday afternoon, Lin introduced the first eight members of his future Cabinet, including future vice premier Lin Hsi-yao (林錫耀), future minister of health and welfare Lin Tzou-yien (林奏延), ministers without portfolio Lin Mei-chu (林美珠), Chang Ching-sen (張景森), Shih Jun-ji (施俊吉) and Hsu Chang-yao (許璋瑤), and future Cabinet spokesman Tung Chen-yuan (童振源) — who did not appear at the press conference as he is currently in the US as a visiting professor.
Lin Chuan said that all of the confirmed Cabinet members have served in government positions at different levels, and that he had worked well with all of them previously.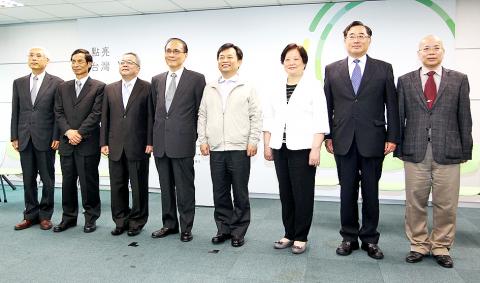 Members of the incoming Cabinet pose for a group photograph with premier-designate Lin Chuan, fourth left, during a news conference in Taipei yesterday.
Photo: CNA
"I worked closely with Lin Hsi-yao during the presidential election, and we had good discussions on various issues," Lin Chuan said. "I first met him when he was Taipei County's [now New Taipei City] deputy commissioner, and I was the Directorate-General of Budget, Accounting and Statistics minister. I had a very good impression of him, since he could appear soft when trying to convince people, but remains firm over his views."
Having served not only as deputy county commissioner, but also several positions in the Democratic Progressive Party (DPP), as well as in the Cabinet during the previous DPP administration, Lin Chuan said that Lin Hsi-yao is good at negotiating, and could be very helpful in facilitating communications in the Cabinet and with the legislature.
As for Chang, Lin Chuan said that, as a former head of the Council for Economic Planning and Development — now renamed the National Development Council — he would play a key role in planning for national development, transportation, energy and social housing.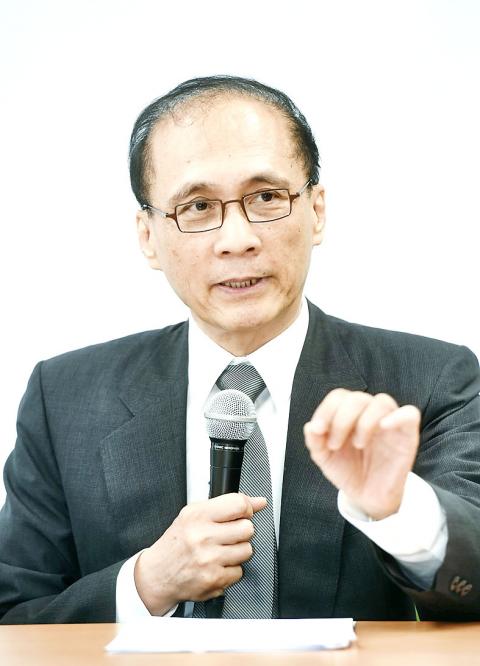 Premier-designate Lin Chuan yesterday speaks during a news conference in Taipei.
Photo: Fang Pin-chao, Taipei Times
Asked whether his appointment of Lin Mei-chu as a minister without portfolio would entail a conflict of interest, since Lin Mei-chu is Tsai's cousin, Lin Chuan said that Lin Mei-chu would be serving in the Executive Yuan, not the Presidential Office.
"Professionalism, ability and experience are the only conditions I would consider," the premier-designate said.
Lin Chuan also said that the decisions on future Cabinet members are not made by any one person.
"We have a team — I am not going to name everyone on the team, but Tsai and I are both on it — to make proposals and discuss possible candidates," Lin Chuan said.
"Tsai and I often have different ideas, but I have the final say on it," the premier-designate added.
Meanwhile, Lin Tzou-yien said that he had not attended a WHA meeting before, but that he would ask Minister of Health and Welfare Chiang Been-huang (蔣丙煌) for advice, and that because he considers himself familiar with the work, he expects the trip to go smoothly.
In response to whether Taiwan would have to attend the meeting under the "one China" principle, Lin Tzou-yien said he has not received the invitation yet, and because he would ask for Chiang's advice in advance, he does not want to make any remarks on the issue yet.
Additional Reporting by Lee I-chia
Comments will be moderated. Keep comments relevant to the article. Remarks containing abusive and obscene language, personal attacks of any kind or promotion will be removed and the user banned. Final decision will be at the discretion of the Taipei Times.