President-elect to give Panama offer 'priority'
CANAL MEETING? DPP and KMT officials expressed support for a potential meeting between Tsai Ing-wen and Xi Jinping if she does accept the invitation
President-elect Tsai Ing-wen (蔡英文) yesterday promised to give "priority consideration" to an invitation from Panama for her to attend the inauguration ceremony of the expanded Panama Canal on June 26.
Tsai made the remarks during a meeting with Panamian Ambassador Alfredo Martiz, who delivered the invitation from Panamanian President Juan Carlos Valera for the canal's inauguration to Tsai in person.
Chinese President Xi Jinping (習近平) was also invited.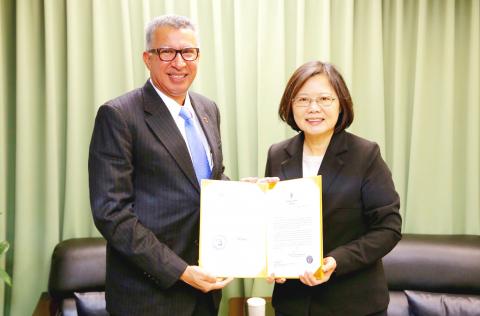 President-elect Tsai Ing-wen, right, and Panamanian Ambassador Alfredo Martiz yesterday in Tapei hold an invitation for Tsai to attend the inauguration of the expanded Panama Canal.
Photo: CNA
"Ambassador Martiz congratulated Tsai on her election win [on Jan. 16] and said that, since the years-long construction is important to Panama, it has invited all its diplomatic allies, as well as important users of the canal, to take part," Democratic Progressive Party (DPP) spokesperson Ruan Jhao-syong (阮昭雄) said after the meeting behind closed doors at party headquarters in Taipei.
"Tsai thanked the Panamanian president for his sincere invitation and though the inauguration ceremony is only one month after the presidential inauguration on May 20, she would give it priority consideration," Ruan said.
At the meeting, Tsai and Martiz discussed potential cooperation between the two nations, including in the biotechnology, "renewable" energy, telecommunications and medical industries.
In response to media queries about Panama's invitation for Xi to attend the ceremony — with some politicians and political commentators speculating that Panama might be expressing a desire to establish formal diplomatic ties with China through the invitation — Martiz said that diplomatic ties between Taipei and Panama City remain firm.
"The Panama Canal is open to the international world; this is the answer to this question, but Taiwan is our ally and we have a relationship with them," Martiz said in English. "That's why we are here to show the people in Taiwan the relationship between Taiwan and Panama is [a] very good one."
"No need to be afraid. Feel happy. Panama and Taiwan, they are good friends," he added.
Although Tsai has not said whether she would attend the event, most DPP legislators said they would support a decision to go.
"If the first occasion for the leaders from both sides [of the Taiwan Strait] to meet is to be in Panama — in an international setting — it would not be a bad thing," DPP Legislator Chuang Jui-hsiung (莊瑞雄) said. "However, Tsai should be clear that the meeting would not be 'accidental,' if it happens."
Legislator Lo Chih-cheng (羅致政) said it was not certain that Tsai and Xi would meet, even if they both attended the event.
"China has always tried to avoid meetings between leaders from both sides at international events, so I think the possibility of Tsai meeting with Xi in Panama is not too high," Lo said.
However, Lo said Tsai should accept the invitation regardless of the possibility of a meeting with the Chinese leader, as it would be an important event that leaders from many countries would attend and it would be beneficial for Tsai to interact with them.
Chinese Nationalist Party (KMT) legislators also voiced support for Tsai's potential trip to Panama.
KMT caucus whip Lin Te-fu (林德福) said Taiwan is facing great challenges in diplomacy, so if there is a chance for the future president to engage in international interactions that are helpful to the nation, the KMT would not oppose the trip.
KMT Legislator John Wu (吳志揚) said Tsai "has to go," regardless of China's attitude.
Meanwhile, China reacted frostily yesterday.
Asked whether Xi would attend the ceremony and if he might meet Tsai, Chinese Ministry of Foreign Affairs spokesman Hong Lei (洪磊) did not answer directly.
"What I want to point out is that China has always had the 'one China' principle as a fundamental precondition for handling and developing relations with countries around the world," Hong told a daily news briefing, without elaborating.
Additional reporting by Alison Hsiao and Reuters
Comments will be moderated. Keep comments relevant to the article. Remarks containing abusive and obscene language, personal attacks of any kind or promotion will be removed and the user banned. Final decision will be at the discretion of the Taipei Times.