Wei Ying-chun found guilty, faces jail
FOUR YEARS: The prosecution sentenced the Ting Hsin executive and 11 others, while it said Wei Chuan Foods general manager Chang Chiao-hua was not guilty
Senior Ting Hsin International Group (頂新集團) executive Wei Ying-chun (魏應充) was found guilty of defrauding consumers and breaching food safety laws and given a four-year jail term by the Taipei District Court in a first-round ruling yesterday.
The court also ordered Wei Chuan Foods Corp (味全食品), a subsidiary of Ting Hsin, to pay a NT$15.5 million (US$473,051) fine, while Wei Chuan Foods general manager Chang Chiao-hua (張教華) was found not guilty.
Chang was the only one of 13 defendants to escape punishment, with 11 other company employees, excluding Wei, found guilty and sentenced to prison terms ranging from five months to 46 months, most of which can be commuted to fines.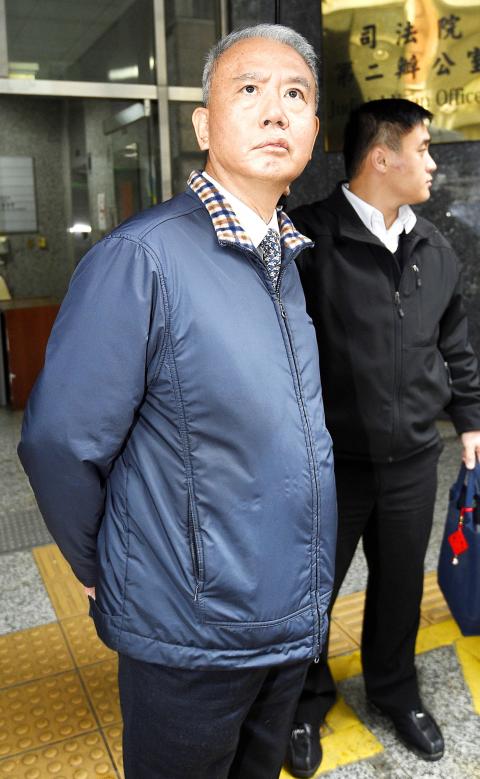 Senior Ting Hsin International Group executive Wei Ying-chun looks past the camera in Taipei on Feb. 1.
Photo: Chen Chih-chu, Taipei Times
Wei's lawyer Yu Ming-hsien (余明賢) said they would appeal his sentence.
"We regret this ruling and we cannot accept it... We believe Wei Chuan employees undertook their work by following the rules and did not break the law. We will appeal the ruling to fight for not-guilty rulings for Wei Chuan employees," Yu said.
Legal professionals said Wei and his company got off lightly.
Lawyer Lin Chun-feng (林俊峰), a former prosecutor, said the court handed down light sentences to both Wei and Wei Chuan Foods for fraud and adulterating food products, which harmed people's health.
Prosecution of the 2014 case involving tainted cooking oil was divided into two judicial cases, with yesterday's ruling dealing with the firm's plant-based oil products, while the Changhua District Court handled the case dealing with animal-based oil products.
The Changhua District Court's not-guilty verdict handed down to Wei and five other defendants in November last year caused a public furor, while prosecutors have appealed that case to the Taiwan High Court.
Yesterday's ruling said Wei Chuan Foods made illicit profits estimated at NT$209.73 million by mixing low-grade palm oil and other low-cost oils containing artificial coloring from supplier Chang Chi Foodstuff Factory Co (大統長基), and after processing, marketed the products as high-grade olive oil and other expensive cooking oils.
Among the four Wei brothers who owned and managed Ting Hsin Group, Wei Ying-chun is the main figure embroiled in the scandal, as he headed the group's food and oil product subsidiaries, having served as chairman of Wei Chuan Foods, Ting Hsin Oil and Fat Industrial Co (頂新製油實業) and Cheng I Food Co (正義股份).
Wei and 11 other defendants were found guilty of fraud, faking product labels and breaches of the Act Governing Food Safety and Sanitation (食品安全衛生管理法), according to yesterday's ruling.
Among them: former Ting Hsin Oil and Fat general manager Chang Mei-femg (常梅峰) was handed a 46-month term; Chung Mei-yu (鍾美玉), former head of Wei Chuan's research center, was sentenced to 22 months; Shih Chieh-jen (施介人), manager of Wei Chuan's food and oil product research and development division, was given 27 months; and Chen Jung-hui (陳榮輝), deputy head of the company's product testing and analysis division, was senteced to five months.
Wei Chuan Foods said it regretted the Taipei District Court's ruling against the company and its employees.
"We will immediately seek to appeal the ruling made by the court and will file a lawsuit against Ting Hsin Oil and Fat Industrial Co to seek compensation," the company said in a statement.
Additional reporting by Aileen Chuang
Comments will be moderated. Keep comments relevant to the article. Remarks containing abusive and obscene language, personal attacks of any kind or promotion will be removed and the user banned. Final decision will be at the discretion of the Taipei Times.