Belgian police name bombers, hunt for suspect
Two brothers carried out suicide bombings at Brussels Airport and on the Brussels metro on Tuesday a Belgian Federal Prosecutor Frederic van Leeuw said yesterday, adding that airport bomber, Ibrahim el-Bakraoui had left a will on a computer.
His brother, Khalid, blew himself up on a carriage of the Brussels metro at Maelbeek Metro Station, Van Leeuw told a news conference. Two other men captured on closed-circuit television at the airport with Ibrahim el-Bakraoui had yet to be identified, Van Leeuw said.
The first bomb at the airport went off near desk 11 at 7:58am and the second followed nine seconds later near desk 2 of the departure hall, Van Leeuw said.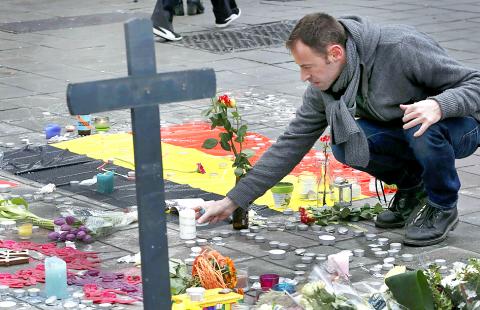 A man places flowers on a street memorial in Brussels yesterday.
Photo: Reuters
The prosecutor quoted Ibrahim el-Bakraoui's will as saying: "Always on the run, not knowing what to do anymore, being looked for everywhere, not being safe any longer" and "I don't want to end up in a cell next to him."
The second airport suicide bomber has not been identified, while a third man, who left the airport before the explosions, is still being hunted, Van Leeuw said.
At a raid in the Brussels district of Schaerbeek on Tuesday night, police found 15kg of explosives, 150 liters of acetone, 30 liters of oxygenated water, detonators and a suitcase filled with screws and nails as well as materials, such as plastic boxes, needed to pack up the explosives.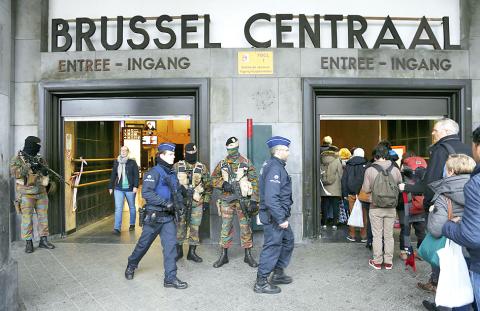 Police officers and military patrol the entrance to Brussels Central Station yesterday.
Photo: Reuters
Brussels yesterday awoke amid growing suggestions that the bombings were the work of the same Islamic State group cell that attacked Paris last year.
The EU's capital awoke under guard after 34 people were killed and more than 200 wounded in Tuesday's attacks. The Islamic State group, which was behind the Paris attacks, claimed responsibility for the Brussels bombings, which laid bare Europe's vulnerability to a group trying to spread violence well beyond its bases in the Middle East.
Belgium is in the midst of three days of mourning and government offices, schools and residents held a moment of silence to honor the dead, marking the moment in a mood of defiance mixed with anxiety that others involved in the attacks might still be at large.
Police conducted raids overnight and circulated a photograph of three men seen at the airport wheeling trollies that presumably contained explosives-filled suitcases.
Belgian newspaper DH reported that the man said to be at large might be Najim Laachraoui, whom Belgian authorities have been searching for since last week as a suspected accomplice of key Paris attacks suspect Salah Abdeslam.
Laachraoui is believed to have made the suicide vests used in the Paris attacks, a French police official said, adding that Laachraoui's DNA was found on all of the vests as well as in a Brussels apartment where they were made.
Abdeslam was arrested on Friday last week in a Brussels neighborhood where he grew up, a rough place with links to several of the Paris attackers.
A Belgian official working on the investigation said that it is a "plausible hypothesis" that Abdeslam was part of the cell linked to the Brussels attack.
French and Belgian authorities have said in recent days that the network behind the Paris attacks was much larger than initially thought — and developments this week suggest the same group could have staged both the Paris and Brussels attacks.
Belgian Minister of Justice Koen Geens said that the nation would remain at its highest terrorism threat level until further notice. That level means there is a threat of an "imminent" attack.
"It is a war that terrorism has declared not only on France and on Europe, but on the world," French Prime Minister Manuel Valls said. "We must be able to face the extension of radical Islamism ... that spreads in some of our neighborhoods and perverts our youth."
Brussels Airport announced that it would remain closed to passenger flights for at least another day, right up to the start of the busy Easter weekend. Airport officials said they would have to cancel about 600 flights each yesterday and today.
Comments will be moderated. Keep comments relevant to the article. Remarks containing abusive and obscene language, personal attacks of any kind or promotion will be removed and the user banned. Final decision will be at the discretion of the Taipei Times.