Ministry denies role in Dome probe
'CLEAN RECORD': Presidential Office spokesperson Charles Chen said that President Ma Ying-jeou's actions during his time as mayor of Taipei would stand up to scrutiny
Minister of Justice Luo Ying-shay (羅瑩雪) yesterday at a Legislative Yuan committee inquiry session denied the ministry's involvement in an ongoing investigation of the Taipei Dome project started when President Ma Ying-jeou (馬英九) was mayor of Taipei.
Luo said the case was being investigated by the Taipei District Prosecutors' Office and she had not asked about it out of respect for the office's jurisdiction.
According to reports by Storm Media Group, Chinese Nationalist Party (KMT) Legislator Lin Te-fu (林德福) — who is also a member of the legislature's Judicial Committee — asked Luo whether the ministry would reject an investigation request on the grounds that the ministry does not have investigative authority.
Minister of Justice Luo Ying-shay speaks at the Legislative Yuan in Taipei yesterday.
Photo: Chu Pei-hsiung, Taipei Times
The ministry had cited that reason for rejecting an investigation into the Taipei Dome and MeHAS City projects after the Taipei City Government asked that the investigation be turned over to the ministry, the report said.
The municipality's Clean Government Committee attempted to turn over the investigation to the ministry before the Lunar New Year holiday last month, the report said.
Luo said the Taipei District Prosecutors' Office was investigating the issue and there was no other reason that the request would be rejected, adding that while the master copy of the official request had been sent to the ministry, the prosecutors' office received a copy as well.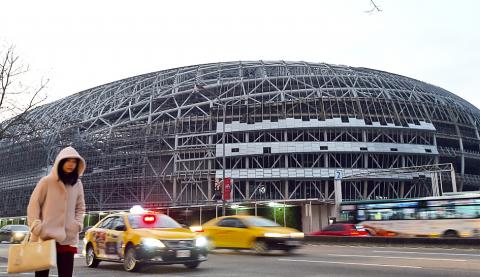 A woman walks past the unfinished Taipei Dome in Taipei on Jan. 18.
Photo: Chien Jung-fong, Taipei Times
The investigation is being carried out by the prosecutors' office and the ministry would not intervene or ask about it, Luo said.
Meanwhile, Presidential Office spokesperson Charles Chen (陳以信) said Ma has a clean record, one that could stand up against the most critical of inspections.
Ma has made known his willingness to cooperate with the ongoing investigation if required, Chen said.
However, Chen said the committee's credibility has been doubtful since last year.
Even Taipei Mayor Ko Wen-je (柯文哲) has changed his rhetoric and simply calls the five controversial cases the "five cases" instead of the "five scandals," Chen said.
The five cases also include the Twin Star project, the Songshan Cultural and Creative Park and the Syntrend Digital Park.
Ko has said that all five projects benefitted contractors prior to his election as mayor in 2014.
Ko and Taipei Department of Legal Affairs Director Yang Fang-ling (楊芳玲) have both said the Taipei Dome project was "legal, but unreasonable," Chen said, adding that if Ma is proved innocent, Ko must take both legal and political responsibility for accusing the president of collusion with corporations during his tenure as mayor of Taipei.
Comments will be moderated. Keep comments relevant to the article. Remarks containing abusive and obscene language, personal attacks of any kind or promotion will be removed and the user banned. Final decision will be at the discretion of the Taipei Times.