Tsai names Lin Chuan as her premier
'BEST EXECUTIVE': Lin Chuan has served as minister of finance and has a doctorate in economics, but Tsai said the Cabinet is to be focused on reform and communication
Calling him "the best executive," president-elect Tsai Ing-wen (蔡英文) yesterday named former minister of finance Lin Chuan (林全) as the premier of the Democratic Progressive Party (DPP) administration that is to take office on May 20.
Lin is good at communicating and solving problems, and is also adept at delineating the parameters of a disagreement so that a solution can be found, Tsai said.
Lin is the person most familiar with her plans for governing the nation, and his performance when he was a minister won the approval of the public, Tsai said.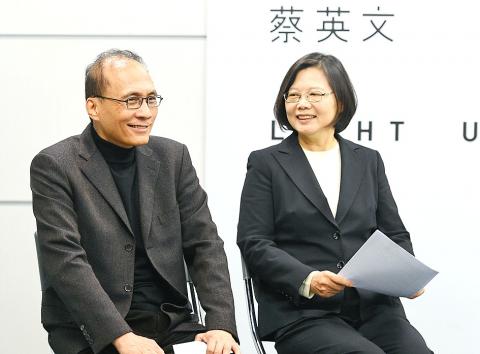 President-elect Tsai Ing-wen, right, is joined by former minister of finance Lin Chuan as Tsai announces Lin's premiership yesterday in Taipei.
Photo: Chang Chia-ming, Taipei Times
"That was why I chose him as premier," Tsai said alongside Lin at a press conference held to announce his appointment.
Lin, born in Kaohsiung on Dec. 13, 1951, was chief of the Directorate-General of Budget, Accounting and Statistics of the Executive Yuan between 2000 and 2002, and minister of finance between late 2002 and early 2006 under then-president Chen Shui-bian (陳水扁). He has no party affiliation.
Lin is now the chief executive officer of the New Frontier Foundation, a think tank chaired by Tsai. He played a major role in her presidential campaign.
Although Lin worked exclusively on financial matters when in government, Tsai said: "I promise everyone that Lin Chuan's Cabinet will not be one focused on economics and finance," but one of reform, and one that is good at communicating and getting things done.
Tsai said she chose to announce the appointment yesterday because she plans to have the key positions in the new Cabinet selected by next month to give her team enough time to prepare for office.
The nation faces many long-standing problems and challenges, Tsai said, adding that the political and social reforms she pledged are as important to her as economic and industrial policies.
Starting straight away, her team aims to rebuild the public's trust in the government, Tsai said.
"I believe Lin Chuan will be the best executive for Taiwan as it heads toward reform," Tsai said.
At the news conference, Lin said he would aim for close communication with local governments and that he hoped to recruit talented officials from local government to help the Cabinet get a grasp of the needs and expectations of the public.
Saying that at first he did not want to return to public life, Lin called on people with experience to "help us in government," adding that the government must nurture new talent to be sustainable.
Lin has a bachelor's degree in economics from Fu Jen Catholic University and a master's degree in public finance from National Chengchi University. He received his doctorate in economics from the University of Illinois, Urbana-Champaign.
He has also served as executive director of Tsai's Thinking Taiwan Foundation and head of the Taipei City Government's Department of Finance, and is now a part-time instructor at National Taiwan University's department of economics.
Comments will be moderated. Keep comments relevant to the article. Remarks containing abusive and obscene language, personal attacks of any kind or promotion will be removed and the user banned. Final decision will be at the discretion of the Taipei Times.