Protesters rally against nuclear power
WASTE NOT, WANT NOT: Organizers urged legislators to respond to their seven demands, which include passing a 'nuclear-free homeland act' and finding a waste solution
An annual parade launched by a coalition of more than 60 groups opposed to nuclear power was held in Taipei yesterday.
Noting the anniversary on Friday of Japan's Fukushima Dai-ichi nuclear disaster, the National Nuclear Abolition Action Platform said many people in Japan have been forced to move away from their homes due to radioactive contamination, and it does not want a similar situation in Taiwan.
The theme for the parade was "farewell nuclear power and facing nuclear waste," with activists demanding a nuclear-free nation and a fair solution to nuclear waste disposal.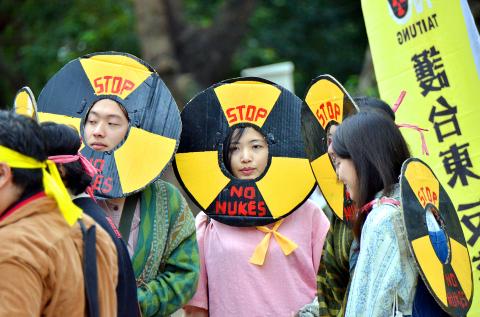 Protesters demanding that nuclear waste be removed from Taitung County yesterday participate in an anti-nuclear demonstration in Taipei organized by the National Nuclear Abolition Action Platform.
Photo: CNA
Other anti-nuclear protests were also held across the nation yesterday.
More than a dozen residents living near nuclear power plants in northern Taiwan joined a crowd led by New Power Party Chairman Huang Kuo-chang (黃國昌) to protest in front of the Jinshan Nuclear Power Plant in New Taipei City's Shihmen District (石門), before moving onto the Guosheng Nuclear Power Plant in New Taipei City's Wanli District (萬里) and then to the unfinished Fourth Nuclear Power Plant in Gongliao District (貢寮).
Bowing in front of a yellow banner with the names of deceased Taiwanese who had contributed to previous anti-nuclear events, and holding signs that read "30 to 40 years is enough," "we are fed up with injustice," and "we do not want to move 500km away from our hometown," the protesters urged more young people to take a stand against nuclear power.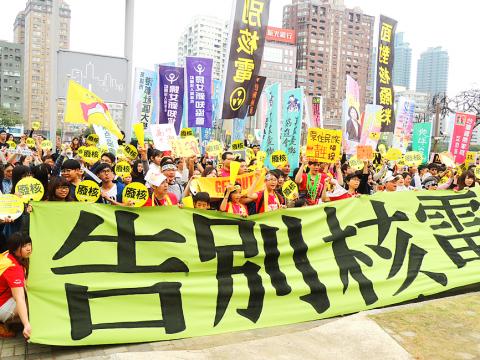 Protesters participating in an anti-nuclear demonstration in Kaohsiung yesterday hold up signs displaying anti-nuclear slogans.
Photo: Ke Yu-hao, Taipei Times
"Standing up against nuclear power is definitely not something that only us who live in the north should do," Northern Coast Anti-Nuclear Action Alliance chief executive Kuo Ching-lin (郭慶霖) said. "Are people waiting for the day a nuclear disaster occurs to start standing up against it?"
Meanwhile, Huang said that no one wants nuclear waste stored near their home.
"We need an independent public institution that can discuss the issues of how to dispose or where to place nuclear waste, under objective criteria and through democratic participation," he said.
Taiwan Power Co (Taipower, 台電) cannot arbitrarily decide where high-level radioactive waste should be stored, he said, adding that nuclear waste disposal is an issue the new government and legislature must face seriously.
Despite the rainy weather, thousands of people, some dressed in costumes and holding handmade signs with anti-nuclear slogans, began gathering on Ketagalan Boulevard in Taipei at about 2pm to join the parade, which set off at 5pm and ended at Taipei's North Gate (北門) at 6pm.
The platform urged new legislators to respond to their seven demands, including passing a "nuclear-free homeland act" and setting a schedule for nuclear power plant retirement, introducing an energy tax, abolishing the Fourth Nuclear Power Plant, monitoring radioactive contaminated food products and a fair nuclear waste disposal solution.
Attending the parade, Democratic Progressive Party (DPP) Legislator Chen Man-li (陳曼麗) said she is against Taipower's suggestion to dispose of nuclear waste in other countries, and that the DPP agrees to conduct a comprehensive review on the ideas of an energy tax and standards for monitoring radiation-contaminated food.
A feature of this year's parade was a 30m-long red banner with "10,000 years of nuclear waste" written on it.
The banner was held by protesters as they paraded through Taipei before they surrounded the North Gate, symbolizing how nuclear waste lasts much longer than any monument in human civilization, so Taiwanese should decide how to deal with it seriously.
The platform said about 7,000 people participated in yesterday's parade.
President-elect Tsai Ing-wen (蔡英文) of the DPP did not take part in the parade, but she voiced her support on Facebook.
"Having a non-nuclear homeland is an objective that the DPP has insisted on," Tsai said.
Additional reporting by Loa Iok-sin
Comments will be moderated. Keep comments relevant to the article. Remarks containing abusive and obscene language, personal attacks of any kind or promotion will be removed and the user banned. Final decision will be at the discretion of the Taipei Times.