Collector has over 1,000 White Terror documents
DON'T SEND MPS: The collector asked the MND to contact him. His vast collection includes files on Lei Chen and photographs of prisoners taken before execution
The scandal over the military police's alleged violations of civilians' rights with an illegal detention and search of a private residence took a surprising turn when a man surnamed Hu (胡) said he has a collection of more than 1,000 White Terror-era documents, and asked the Ministry of National Defense (MND) to contact him.
"It was meaningless for the military police to search Wei's house. There are more of these documents in my hands," said Hu, who is a consultant for the Taiwanese Web site "Rebirth.com" (再生.com) which specializes in the sale of antiques, valuable cultural items and historical materials.
The military police detained and questioned Wei last month, then went to his home, seizing three documents, which Wei had put up for sale on the Web site.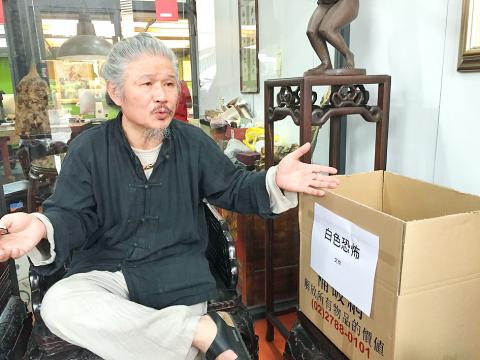 A man surnamed Hu sits beside a box marked "White Terror documents" at his premises in Taipei yesterday.
Photo: CNA
Among Hu's collection were documents relating to the then-Chinese Nationalist Party (KMT) government's conspiracy case against General Sun Li-jen (孫立人) and persecution of prominent KMT politician Lei Chen (雷震), Hu said.
Besides the files on Sun and Lei from the 1950s, Hu said he has more than 1,000 documents from the White Terror era, mostly once-classified material from the KMT's military and intelligence apparatus, whose investigations led to the arrest, torture, imprisonment and death of dissidents, political activists and suspected communist spies during the four decades of martial law under the authoritarian rule of Chiang Kai-shek (蔣介石) and his son, former president Chiang Ching-kuo (蔣經國).
Among his collection were photographs of prisoners in their final hours, with their names, taken just before their execution, which researchers said is valuable historical material and should be put in a protected depository at the National Archives or at Academia Sinica.
"People from Academia Sinica and other institutions have bought materials from me in the past. I am a law-abiding businessman and I will not make problems for the military. If MND officials contact me, I am willing to reveal in public all the material in my collection," Hu said, adding that he was not sure why the MND and the military police took such an avid interest in tracking down the three documents offered for sale by Wei.
Hu said that he obtained all the documents legally, some from private collectors and others at auctions, paying more than NT$100,000 for some, while others were offered to him.
"We always try to authenticate the materials, as some turn out to be fakes, while some are stolen goods," Hu said.
MND spokesman Major General David Lo (羅紹和) said the seller should get in touch with the defense ministry on his own, because it would not be appropriate for the ministry to contact Hu, as the public might suspect harassment and White Terror-era tactics against a private citizen.
"It is best to hand the materials to judicial agencies or the police for their handling, then they can be examined by experts for their authenticity. The MND would also provide assistance in this work, because we are not certain if these documents have been declassified, and to determine which agencies they had came from, and others might involved personal privacy issues for the affected individuals," Lo said.
However, political commentator Chung Nien-huang (鍾年晃) urged Hu not to hand the documents over to the ministry or its related agencies, because they would most likely be destroyed, as the KMT and military officials have a vested interest in destroying all evidence of its killing of tens of thousands of Taiwanese during the White Terror era and the 228 Massacre.
Comments will be moderated. Keep comments relevant to the article. Remarks containing abusive and obscene language, personal attacks of any kind or promotion will be removed and the user banned. Final decision will be at the discretion of the Taipei Times.