'Status quo' backed as Beijing postures
'CHINESE SOVEREIGNTY': Chinese Premier Li Keqiang said China would 'oppose separatist activities,' and spoke of people on both sides as 'the same family'
Politicians in Taiwan backed the "status quo" yesterday after Beijing stepped up its rhetoric against Taiwanese independence, with Chinese Premier Li Keqiang (李克強) warning against "separatist activities" and pledging to safeguard China's "territorial integrity."
The Democratic Progressive Party (DPP) played down Li's remarks that a peaceful and stable relationship across the Taiwan Strait should be developed under the so-called "1992 consensus" and that both sides are "part of one big family."
"The DPP's cross-strait policy is to maintain the status quo as president-elect Tsai [Ing-wen, 蔡英文] proposed," DPP spokesperson Wang Min-sheng (王閔生) said.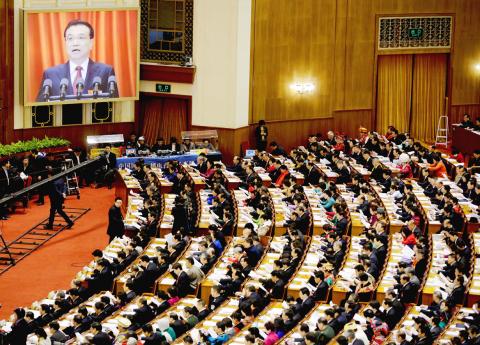 Chinese Premier Li Keqiang speaks on a big screen at the opening session of the Chinese National People's Congress at the Great Hall of the People in Beijing yesterday.
Photo: AP
"This is not only in line with mainstream public opinion in Taiwan, but would also maintain regional stability," Wang said.
Wang said that Tsai's definition of the "status quo" relates to the democratic and free state of Taiwan and the peaceful relationship across the Taiwan Strait.
The Mainland Affairs Council said the government's "mainland policy" is to maintain the "status quo" of "no unification, no independence and no armed conflict" across the Taiwan Strait, while pushing for peaceful and stable developments based on the "1992 consensus."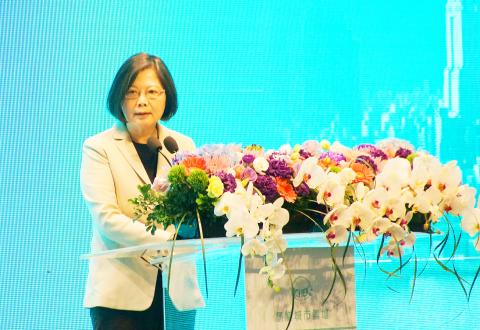 President-elect Tsai Ing-wen addresses a forum in Kaohsiung yesterday.
Photo: CNA
The council said that the "mainland policy" should be created in line with the framework of the Republic of China (ROC) Constitution.
New Power Party Legislator Freddy Lim (林昶佐) said he "is not particularly surprised" by China's warning, adding that there is no need to "overreact" to new references to China's resolve to oppose Taiwanese independence.
"They are always reiterating their stance and I think we should just treat it calmly to try to normalize it," Lim said.
"After all, China is just one country," he said, downplaying Li's referring to both sides of the strait as a "family."
Cross-strait "interaction and communication does not rely upon whether we are of the same so-called 'family' — we do not engage in dialogue with Japan and the US because they are closer 'family,'" he said.
Li said at the opening of the Chinese National People's Congress that Beijing plans to "oppose separatist activities for the independence of Taiwan" and "safeguard China's sovereignty and territorial integrity."
Both clauses were additions to remarks he made on the issue at last year's National People's Congress.
Beijing has repeatedly asserted its belief in the "1992 consensus," a term former council chairman Su Chi (蘇起) admitted making up in 2000, which refers to a tacit understanding between the Chinese Nationalist Party (KMT) and the Chinese government that both sides of the Taiwan Strait acknowledge there is "one China," with each side having its own interpretation of what "China" means.
Li spoke of people on both sides of the Taiwan Strait as "fellow compatriots" belonging to "one and the same family," sharing a "common destiny."
The phrasing echoed Chinese President Xi Jinping's (習近平) rhetoric from November last year, when President Ma Ying-jeou (馬英九) and the Chinese leader reached across decades of Cold War-era estrangement and rivalry to exchange a historic handshake in the first summit since 1949.
"We are brothers connected by flesh, even if our bones are broken," Xi said then. "We are a family whose blood is thicker than water."
Comments will be moderated. Keep comments relevant to the article. Remarks containing abusive and obscene language, personal attacks of any kind or promotion will be removed and the user banned. Final decision will be at the discretion of the Taipei Times.