Piles of recyclables on brink of crisis
SCRAP MOUNTAINS: Falling prices have made government tenders for scrap collection unprofitable, while the heaps left behind make ideal breeding grounds for mosquitoes
Towering piles of recyclable materials awaiting processing are nearing crisis levels in some parts of the nation, public health officials and industry sources said.
Contractors are shying away from buying recycled household scrap collected by the Yunlin County Government, and recycling centers in the county's Gukeng (古坑), Huwei (虎尾), Dounan (斗南) and Tapei (大埤) townships, among others, are unable to find buyers for their huge piles of scrap, industry sources said.
The crisis is largely due to plunging scrap prices making government scrap tenders unprofitable, industry sources said.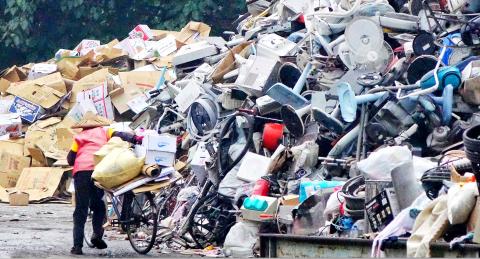 A person transporting recyclable materials on a bicycle walks past a scrap heap in Taipei on Saturday.
Photo: Liu Hsin-de, Taipei Times
Gukeng Township Mayor Huang Yi-ling (黃意玲) said that she was forced to move scrap that the recycling center could no longer accommodate to the local public basketball court, following the township's second consecutive lapsed tender.
The township could not find any takers for the contract in spite of reducing prices from NT$1 per kilogram to NT$0.5, she said.
Similar problems have been reported by many other centers in Yunlin County.
In 2014, Huwei Township's recycling center tried to sell its scrap by reducing prices to NT$2.21 per kilogram. However, the scrap not only failed to attract new buyers, but in September last year, an existing buyer decided to prematurely terminate a contract even though the buyer was obliged by contract to purchase Huwei's scrap until the end of that year.
A spokesperson from the buyer said the firm lost between NT$100,000 and NT$200,000 every month it did business with the township, and that it saw no way out other than to tear up the contract and pay a NT$200,000 penalty.
Yunlin is not alone in having trouble finding buyers for scrap.
Keelung's Bureau of Environmental Protection Director-General Lai Huang-hung (賴煥紘) said that the city also saw multiple tenders for the city's scrap contract lapse until it finally found a buyer this year.
More than 100 Taiwanese scrap-trading businesses stopped operating last year due to falling prices, which industry sources attribute to the deregulation of scrap steel and iron imports from China and cutbacks on Environmental Protection Administration (EPA) subsidies.
The price of recycled paper has remained "relatively stable," declining from NT$5 per kilogram to between NT$3 and NT$4, said a recycler based in Yunlin, who has been in the industry for more than 30 years.
"However, in metals and plastics, the changes are significant. About seven to eight years ago, the price of scrap steel peaked at between NT$11 and NT$12 per kilogram, but Chinese scrap iron and steel imports pushed the price down to NT$1 per kilogram. The recent rise to NT$3 per kilogram does not make the remotest difference to the industry," said the recycler, who wished to remain anonymous.
The EPA's reduction of subsidies for plastic bottles drove prices for plastic down to NT$5 per kilogram — about 20 average-weight bottles — whereas previously the price for a single bottle was NT$1.
The accumulation of unsold scrap in Yunlin's recycling centers could provide an ideal breeding ground for disease-carrying mosquitoes when temperatures rise in the spring and summer, the Yunlin County Environmental Protection Bureau said.
Yunlin collects more than 6,000 tonnes of recyclables from county households every month, it added.
Comments will be moderated. Keep comments relevant to the article. Remarks containing abusive and obscene language, personal attacks of any kind or promotion will be removed and the user banned. Final decision will be at the discretion of the Taipei Times.