US petition launched to recognize Taiwan as nation
A petition to urge the US government to recognize Taiwan as a nation had garnered more than 6,000 signatures as of press time last night, after being put up on the White House Web site on Tuesday.
The petition followed another that asked the British government to recognize Taiwan as a nation. As of press time yesterday, that petition had collected more than 19,000 signatures.
The US petition said that Washington should reaffirm its commitment to Taiwan and should stand on the side of democracy, not coercion from China.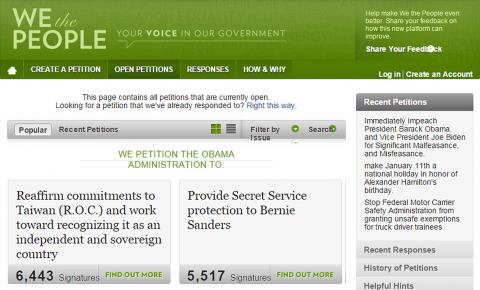 A screen grab shows the number of signatures gained for a petition urging the US government to recognize Taiwan as a nation as of press time yesterday.
Photo: US White House Web site
The petitioner's identity is not disclosed.
"In 1928, the USA was the first government to recognize the Republic of China [ROC]. Now in Taiwan, the government has become a beacon of democracy and freedom in Asia," the petition said.
It said that with Democratic Progressive Party (DPP) Chairperson Tsai Ing-wen (蔡英文) being elected the nation's first female president and the DPP winning a majority in the legislature, Taiwan has shown itself to be a free democracy.
However, it said: "China threatens with military exercises, bullies Taiwanese people when they display national pride and bullies the world into believing there can be only 'one China.'"
The US should therefore recognize Taiwan as an independent and sovereign nation, it said.
Taiwan has been ruled separately from China for most of the past century — first from 1895 to 1945 by Japan after it defeated the Qing Dynasty and seized it as a colony and later from 1949 after the ROC government lost the Chinese Civil War to the Chinese Communist Party and fled to Taiwan.
According to the White House, if a petition meets the threshold of 100,000 signatures in one month, it will be reviewed by US President Barack Obama's administration, which will issue a response.
The UK government promises to respond to all petitions that garner at least 10,000 signatures. With 100,000 signatures, a petition would be considered for debate in the British Parliament, according to British law.
Comments will be moderated. Keep comments relevant to the article. Remarks containing abusive and obscene language, personal attacks of any kind or promotion will be removed and the user banned. Final decision will be at the discretion of the Taipei Times.