Tsai woos US with stability vow
STEADY AS SHE GOES: At Tsai's meeting with former US deputy secretary of state Bill Burns, she pledged she would seek to maintain peace and stability in the region
President-elect Tsai Ing-wen (蔡英文) yesterday said her administration plans to maintain close, friendly relations with the US and promote cooperation between the two nations in all areas, especially in the economic and industrial realms.
Tsai made the remarks as she met former US deputy secretary of state Bill Burns at the Democratic Progressive Party (DPP) headquarters.
In a statement released after the one-hour meeting, the DPP said that Burns, president of the Carnegie Endowment for International Peace, congratulated Tsai on her victory in the presidential election and on the DPP winning an absolute majority in the legislative elections.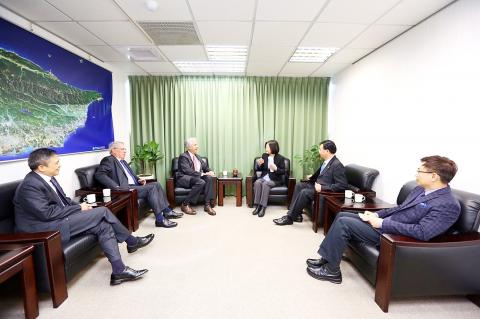 President-elect Tsai Ing-wen, back right, meets former US deputy secretary of state Bill Burns, back left, at the Democratic Progressive Party's headquarters in Taipei yesterday.
Photo provided by Democratic Progressive Party
Burns said that the US looks forward to a smooth transition to the new administration and hopes for further cooperation and exchanges with the new administration, the statement said.
Tsai thanked the US government for sending a well-respected, seasoned diplomat to Taiwan.
On regional issues, Tsai said she would aim to maintain peace and stability.
Burns also met President Ma Ying-jeou (馬英九) and defeated Chinese Nationalist Party (KMT) presidential candidate Eric Chu (朱立倫) yesterday.
"Chu expressed his gratitude to Burns for visiting Taiwan on behalf of the US government, a trip that marks the good ties between Taipei and Washington," said a KMT statement released following Chu's meeting with Burns, adding that Chu also conveyed to Burns that the KMT would shoulder the responsibility expected of an opposition party, continue to cooperate with the DPP, and provide assistance to the DPP over cross-strait and US-Taiwan relations if needed.
The US Department of State last week announced that US Deputy Secretary of State Antony Blinken is to visit Beijing on Thursday and Friday as part of a trip to Asia.
While in Beijing, he is scheduled to have talks with China's Taiwan Affairs Office (TAO) Minister Zhang Zhijun (張志軍).
Meanwhile, DPP Secretary-General Joseph Wu (吳釗燮) yesterday left for Washington after the party's landslide election win at the weekend.
Wu was scheduled to deliver a keynote speech discussing the aftermath of the vote at a think tank in Washington today, although the DPP described his trip as "routine" and gave no other details.
Additional reporting by Stacy Hsu and Reuters
Comments will be moderated. Keep comments relevant to the article. Remarks containing abusive and obscene language, personal attacks of any kind or promotion will be removed and the user banned. Final decision will be at the discretion of the Taipei Times.