Police shoot suspect as 'Charlie' remembered
A man wearing a fake explosive vest and wielding a butcher knife on Thursday was shot to death by French authorities outside a police station as the nation marked a year of terror that started with the newsroom massacre at the Charlie Hebdo satirical newspaper.
The assailant — who shouted "Allahu Akbar" as he waved the knife at officers — was carrying a document with an emblem of the Islamic State group and "an unequivocal claim of responsibility in Arabic," Paris authorities said.
The Islamic State group claimed responsibility for the attack on Jan. 7 last year at Charlie Hebdo and on a kosher grocery store three days later that jointly killed 17 people. The group also claimed the Nov. 13 attacks on Paris cafes, restaurants, a sports stadium and a music hall that killed a combined 130 people.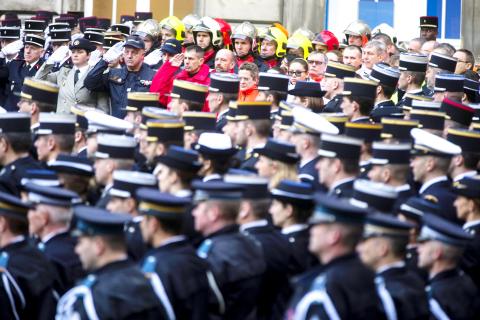 French armed forces personnel salute as French President Francois Hollande, not shown, speaks in Paris on Thursday.
Photo: EPA
Thursday's incident shortly before noon in Paris' Goutte d'Or neighborhood came almost one year to the minute after two militants burst into the offices of Charlie Hebdo, killing 11 people.
Just moments earlier, French President Francois Hollande had paid respects to fallen security forces — three of whom were killed last year in terrorist violence — saluting their valor in protecting "this way of life, the one that terrorists want to attack."
In Belgium, police found three belts for possible use in suicide attacks, traces of explosives and a fingerprint of wanted Paris attacks suspect Salah Abdeslam at a Brussels apartment, prosecutors said yesterday.
Prosecutors said Abdeslam might have hidden in the apartment after the Nov. 13 attacks, but that they were also working on a theory that the explosive devices used in the attacks could have been made there.
The find was made last month during a search of an apartment in the Schaerbeek area of the Belgian capital, prosecutors said. It was rented by someone using a false name, possibly used by another suspect now in custody.
"In the framework of the investigation opened after the Paris attacks, the federal prosecutor confirms that during a house search conducted [on] December 10th in an apartment on the third floor, Rue Bergi in Schaerbeek, material that can be used to fabricate explosives, as well as traces of TATP [acetone peroxide, an explosive material] were found," the prosecutor said.
"This apartment was rented under a false identity that might have been used by a person already in custody in this case," the statement said. "Three handmade belts that might be used to transport explosives, as well as a fingerprint of Salah Abdeslam were also discovered."
Comments will be moderated. Keep comments relevant to the article. Remarks containing abusive and obscene language, personal attacks of any kind or promotion will be removed and the user banned. Final decision will be at the discretion of the Taipei Times.