Tsai plans week of nationwide rallies
'GENERAL MOBILIZATION': Former Presidential Office secretary-general Yeh Chu-lan said northern Hakka people are turning away from the Chinese Nationalist Party
Democratic Progressive Party (DPP) presidential candidate Tsai Ing-wen (蔡英文) yesterday issued a "general mobilization order" to all of the party's staff and elected officials, as she prepared to launch a week-long nationwide campaign tour starting today.
The trip is to start from Fenggang Village (楓港) in Pingtung County's Fangshan Township (枋山), where her family is from.
From there, she is to work her way around the nation with parades and rallies.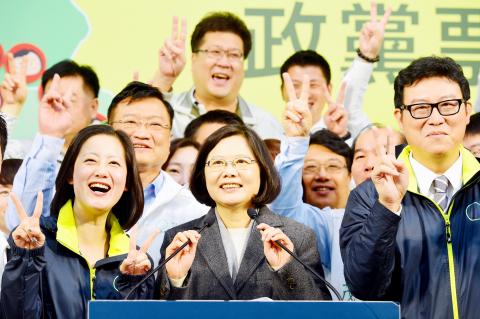 Democratic Progressive Party presidential candidate Tsai Ing-wen, center, speaks at a press conference in Taipei yesterday.
Photo: Lo Pei-der, Taipei Times
Tsai is to arrive in New Taipei City on Friday next week, the day before the election, and she is to have a rally in Banciao District (板橋) before moving on to Taipei to stage an election-eve rally on Ketagalan Boulevard in front of the Presidential Office Building.
Separately yesterday, former Presidential Office secretary-general Yeh Chu-lan (葉菊蘭), who is a Hakka from Miaoli County, said that although Hakka communities in Taoyuan, Hsinchu and Miaoli are traditionally considered Chinese Nationalist Party (KMT) strongholds, she is confident they would turn their support to Tsai in the presidential election.
Yeh, who is also head of Tsai's Hakka Supporters' Club, made the remarks at a press conference at Tsai's national campaign headquarters in Taipei, accompanied by dozens of representatives of overseas Hakka organizations who have traveled to Taiwan to show their support for Tsai and to help organize campaign events.
"In the past, Hakka in the south have been more supportive of the DPP, while those living in the north, mainly Taoyuan, Hsinchu and Miaoli, have been more supportive of the KMT," Yeh said. "However, this time, things have changed, as Hakka people in the north are also more enthusiastic — to an extent that surprised me — at Tsai's campaign rallies."
"The outcome will become apparent in eight days; I am confident it will happen," she added.
Yeh said that in the past, Hakka were more or less an "invisible" ethnic group, but during the DPP administration from 2000 to 2008, the government pushed for the founding of Hakka TV, the Hakka Affairs Council and institutes for Hakka studies at universities.
"Hakka people have since been more proud to identify themselves as Hakka," Yeh said.
Despite all the efforts to promote and preserve Hakka culture and identity, the DPP's support in the three cities and counties with Hakka dominance still rarely goes beyond 40 percent, but there is hope for change this time, Yeh said.
DPP Secretary-General Joseph Wu (吳釗燮) said that in addition to giving its full support to Tsai, the party would like to urge supporters to cast their votes for DPP district and legislator-at-large candidates.
"The KMT proposed to have the majority party form the Cabinet after the legislative elections," Wu said. "This shows that it still has the ambition to seize the executive power by winning a legislative majority."
"That's why we need all of our legislative candidates to win," he said.
Comments will be moderated. Keep comments relevant to the article. Remarks containing abusive and obscene language, personal attacks of any kind or promotion will be removed and the user banned. Final decision will be at the discretion of the Taipei Times.