Antiterrorism law expands China's surveillance reach
China's legislature approved an antiterrorism law on Sunday after months of international controversy, including criticism from human rights groups, business lobbies and US President Barack Obama.
Critics had said the draft version of the law used a recklessly broad definition of terrorism, gave the government new censorship powers and authorized state access to sensitive commercial data.
The Chinese government argued that the requirements were needed to prevent terrorist attacks. Opponents countered that the new powers could be abused to monitor peaceful citizens and steal technology secrets.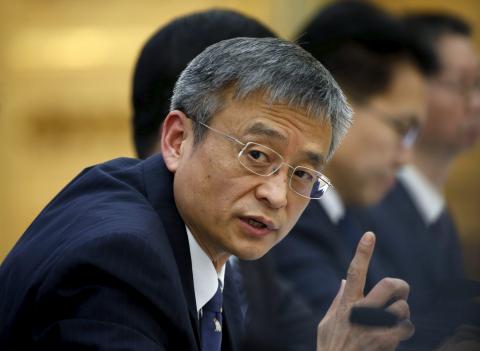 Chinese Public Security Ministry counterterrorism division head An Weixing speaks at a news conference after China's legislature passed a controversial new antiterrorism law in Beijing on Sunday.
Photo: Reuters
In the end, the approved law, published by state media, dropped demands in the draft version that would have required Internet companies and other technology suppliers to hand over encryption codes and other operating sensitive data for official vetting before they went into use. However, the law still requires that companies hand over technical information and help with decryption when the police or state security agents demand it for investigating or preventing terrorist cases.
Telecommunication and Internet service providers "shall provide technical interfaces, decryption and other technical support and assistance to public security and state security agencies when they are following the law to avert and investigate terrorist activities," the law stipulates.
"Not only in China, but also in many places internationally, growing numbers of terrorists are using the Internet to promote and incite terrorism, and are using the Internet to organize, plan and carry out terrorist acts," Standing Committee of the Chinese National People's Congress criminal law expert Li Shouwei (李壽偉) said at a news conference in Beijing.
The approval by the legislature, which is controlled by the Chinese Communist Party, came as Beijing has become increasingly jittery about anti-government violence, especially in the ethnically divided region of Xinjiang in western China, where members of the Uighur minority have been at growing odds with the authorities.
Chinese leaders have ordered security forces to be on alert against possible terrorist attack of the kind that devastated Paris in November.
Over the weekend, the shopping neighborhood of Sanlitun in Beijing was under reinforced guard by People's Armed Police troops after several foreign embassies, including that of the US, warned that there were heightened security risks there around Christmas.
Human rights groups have warned that the law would give even more intrusive powers to the Chinese government, which already has broad, virtually unchecked authority to monitor and detain citizens and to demand information from companies and Internet services.
In an interview with Reuters in early March, Obama criticized the proposed legislation and similar initiatives by the Chinese government and warned that technology companies would not go along with the intrusive demands laid out in the draft law.
Li said that the new law was no reason for multinationals to be alarmed.
"These rules will not affect the ordinary business activities of the firms concerned," he said.
Comments will be moderated. Keep comments relevant to the article. Remarks containing abusive and obscene language, personal attacks of any kind or promotion will be removed and the user banned. Final decision will be at the discretion of the Taipei Times.