Hostages released unhurt in Taitung
CHECKERED PAST: The suspect told a reporter via Line that he resisted arrest because he felt he was wrongly convicted on previous kidnapping charges
A hostage situation ended peacefully yesterday when Lin Kuo-cheng (林國正) surrendered to police after a 21-hour standoff in a neighborhood in Taitung.
Lin was taken into custody after surrendering a weapon at about 4:30pm, with the 36-year-old fugitive transported to the Taitung District Prosecutors' Office for questioning last night.
All three hostages, who are male students at National Taitung University, were unharmed and were taken to a local hospital for observation, police said.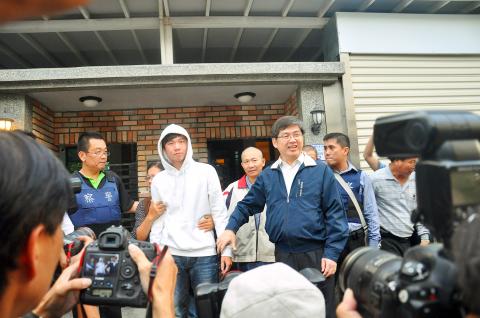 National Taitung University student Chang Yu-ming, in hoodie, is escorted from the building in which he was held hostage for 21 hours in Taitung yesterday afternoon.
Photo: Huang Ming-tang, Taipei Times
Earlier reports indicated that Lin carried a handgun, which he allegedly used to take the students hostage in their apartment.
However, police said that the weapon was a toy gun.
On Monday at about 7pm, police surrounded a residential block in an attempt to arrest Lin, but he eluded capture and entered another building, where he took the three students hostage, threatening to kill them if they did not cooperate, police said.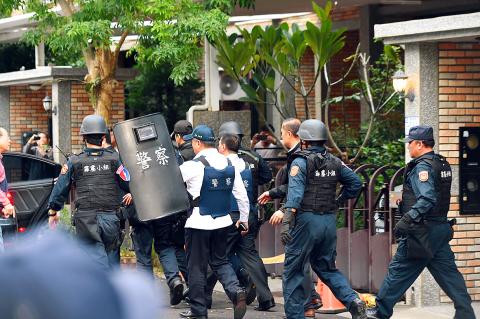 Alleged gunman Lin Kuo-cheng, in background to immediate right of riot shield, is escorted away by police officers after a 21-hour standoff in Taitung yesterday afternoon.
Photo: Chang Chia-ming, Taipei Times
Through negotiations with police, two students were released at about 10pm on Monday, while Lin continued to hold a student surnamed Chang (張) until the standoff ended yesterday afternoon.
Chang and the other two students said after the incident that Lin held the gun to their heads and threatened to shoot if they did not cooperate.
Lin communicated with the media and his family through Line and other messaging apps on Chang's smartphone and notebook.
Taitung County Police Chief Wang Chin-yuan (王欽源) led the negotiations, with local police units and SWAT teams surrounding the building.
While communicating with an Apple Daily reporter via Line, Lin said that he resisted arrest because he was wrongly convicted on prior kidnapping charges, which carried a prison term of at least seven years.
He said he was helping a friend to demand debt payments in a financial dispute.
Also on the scene at various times was Taitung Mayor Chang Kuo-chou (張國洲) — who was involved in negotiations — along with Taitung County Commissioner Huang Chien-ting (黃健庭) and other local councilors.
During the standoff, Lin's elder sister entered the room to deliver food, while Lin also requested to see his former girlfriend, but the police chief conducting the negotiation did not allow her to go into the building.
Chang Kuo-chou yesterday morning said he spoke with Lin four times during the negotiations and Lin handed him two bullets, while saying the handgun had one more bullet in it.
The mayor said that he feared Lin might commit suicide if his demands were not met.
In an early-morning exchange, Lin told Wang: "You must not use force against me... If all three of them die, then I will be dead as well."
Prosecutors agreed to Lin's demands to re-examine his prior conviction, with the office's lead prosecutor taking a statement from Lin via telephone at about 11am yesterday, which proved a turning point in the standoff, as Lin soon afterward released the final hostage and surrendered.
Comments will be moderated. Keep comments relevant to the article. Remarks containing abusive and obscene language, personal attacks of any kind or promotion will be removed and the user banned. Final decision will be at the discretion of the Taipei Times.