Taipei plans to abolish vacation assignment rule
Taipei is to become the nation's first city to abolish a rule observed by elementary schools since 1975 that asks students to work on school assignments during their summer and winter vacations.
The Taipei Department of Education yesterday announced that it had abolished a set of guidelines covering assignments that elementary schools give pupils before they go on summer and winter vacations.
Starting next year, pupils at elementary schools across the city are not to have assignments during summer and winter vaction, the department said.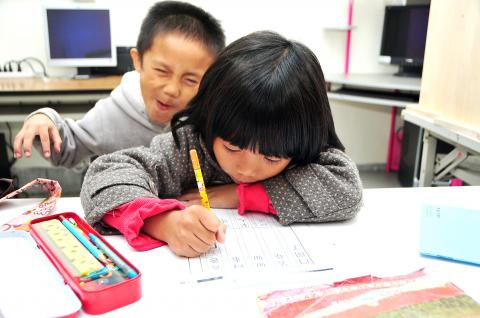 A boy in Hualien yesterday plays a prank on a girl focused on her homework.
Photo: Hua Meng-ching, Taipei Times
Department Commissioner Tang Chih-min (湯志民) said the cancelation of the assignments would help to create a "student-oriented" learning environment, thereby helping pupils to cultivate independent thinking.
Citing examples of assignments elementary schools typically made students do during winter and summer vacations, which included "finish five books and write down your thoughts," "help your mother with chores" and "write four pages of calligraphy," Tang said that these types of tasks had not helped pupils develop independent thinking.
Taipei Mayor Ko Wen-je (柯文哲) touted the policy on Facebook.
Citing the adage "You are limited only by your imagination," Ko said the policy would allow children to decide what they want to learn about and called on parents to encourage children to think about what they want to do during vacations.
"Taiwan has a very passive education system. Children are told what to do and what not to do until their ability to learn is amputated. The nation demanding that children with different aptitudes work on the same assignment is rather strange," Ko said.
Netizens have responded favorably to the announcement.
A Facebook user named Alice Yu said: "Parents are happy because they no longer have to do winter and summer assignments for their kids."
Another user, Liu Pei-yu (劉佩妤), recommended that parents encourage their children to use the Internet to search for information on tourist destinations and Taiwanese cuisine and guide them through trips during vacations, adding that parents can give children an allowance as a reward for their efforts.
Comments will be moderated. Keep comments relevant to the article. Remarks containing abusive and obscene language, personal attacks of any kind or promotion will be removed and the user banned. Final decision will be at the discretion of the Taipei Times.