Tsai, Chu oppose SPIL share sale plan
COMMON GROUND: The presidential rivals agreed that allowing Chinese investment in Taiwan's semiconductor industry would damage national interests and competitiveness
The presidential candidates of the two major political parties yesterday joined the chorus of protest from academics opposed to Siliconware Precision Industries Co Ltd's (SPIL, 矽品精密) planned sale of stock to Tsinghua Unigroup Ltd (清華紫光), saying the Chinese investment could pose a serious threat to Taiwanese industries.
On the sidelines of a news conference in Taipei for the release of a Hakka-themed campaign video, Democratic Progressive Party (DPP) Chairperson Tsai Ing-wen (蔡英文) said given that Tsinghua Unigroup is a state-owned company, it could be subject to Chinese government influence.
"Letting such a company's money enter Taiwan would allow it not only to gain control of the Taiwanese firms whose shares it purchases, but to obtain a significant position in the upstream and downstream sectors of the nation's [semiconductor] industry," Tsai said.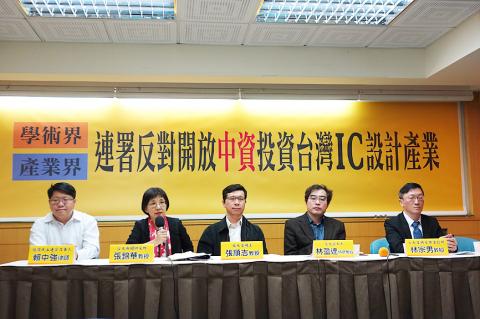 From left to right, Economic Democracy Union convener Lai Chung-chiang, National Taiwan University (NTU) professor Flora Chang, National Cheng Kung University professor Chang Soon-jyh, National Chiao Tung University professor Lin Ying-dar and NTU professor Lin Tsung-nan attend a press conference in Taipei on Monday to call attention to the dangers of allowing Chinese investment in Taiwan's integrated circuit design industry.
Photo: Wu Po-hsuan, Taipei Times
"It could pose a dire threat to Taiwan's industries," she said.
Tsai's warning came four days after SPIL, the world's third-largest chip tester and packager, announced that it wants to sell a 24.9 percent stake to Tsinghua Unigroup for NT$56.8 billion (US$1.72 billion).
It was followed by an announcement made hours later by SPIL subsidiary ChipMOS Technologies Inc (南茂), which said it would sell a 25 percent stake to Tsinghua Unigroup for NT$11.9 billion.
The deals have worried many academics, given Minister of Economic Affairs John Deng's (鄧振中) comments late last month that the ministry was drafting new regulations to allow Chinese investment in the nation's integrated circuit (IC) design industry.
Tsai said given the public's concerns about the deals and graft, the DPP does not see any room for opening up the nation's semiconductor industry to Chinese investment before these concerns are clarified.
"This is a rather weighty and serious issue. The government should not allow hasty passage of the deals without carrying out a thorough assessment and assuaging public concerns," Tsai said.
The possibility that Tsinghua Unigroup is conducting a hostile takeover of the Taiwanese firms could not be ruled out, the DPP leader said.
Chinese Nationalist Party (KMT) Chairman Eric Chu (朱立倫) reiterated his opposition to the deals, calling for extra discretion and vigilance when considering opening up the three major sectors of the semiconductor industry — IC design, foundry and packaging and testing — to foreign investment.
"The IC design sector in particular should remain off-limits to Chinese investment at the moment," Chu said. "As for the other two sectors, careful deliberation is needed when it comes to the opening up of the foundry sector, while the packaging and testing sector is directly related to the nation's global competitiveness and market strategy, and [any investment] should be subjected to strict scrutiny."
In related news, former Academia Sinica president Lee Yuan-tseh (李遠哲) yesterday signed an online petition organized by academics opposed to Chinese investment in Taiwan's IC design industry.
The petition, which was launched on Thursday last week, had 302 signatures as of 1pm yesterday.
Meanwhile, KMT Legislator Lee Guei-min (李貴敏) said that a cross-caucus negotiation had been held in the morning and a resolution was approved to require the Ministry of Economic Affairs to conduct a "thorough review" of Chinese investment in the IC design industry in terms of the impact on sensitive technologies, national security and industrial development strategy, and that it should not allow any Chinese investment or merger before reporting to the Legislative Yuan.
The proposal was largely drawn up by DPP lawmakers.
The resolution states that the ministry should not approve Tsinghua Unigroup's planned acquisition of shares in Powertech Technology Inc (力成), SPIL and ChipMOS until it completes an impact evaluation and reports to the legislature.
Asked whether the resolution was tantamount to an agreement that the acquisition be halted at least until the new legislature is formed after the Jan. 16 presidential and legislative elections, Lee said yes.
Additional reporting by Alison Hsiao
Comments will be moderated. Keep comments relevant to the article. Remarks containing abusive and obscene language, personal attacks of any kind or promotion will be removed and the user banned. Final decision will be at the discretion of the Taipei Times.