China releases Taiwanese spies
NO DEAL: The MND denied a report in the 'China Times' that the two agents were set free in return for the release of a Chinese spy serving a life sentence in Taiwan
The Ministry of National Defense (MND) yesterday confirmed that two military intelligence officers imprisoned in China for nearly a decade were released and returned to Taiwan in mid-October, adding that it was not related to any spy swap deal with China.
Presidential Office spokesman Charles Chen (陳以信) said the release was the result of mutual good will demonstrated by both sides of the Taiwan Strait at the landmark meeting between President Ma Ying-jeou (馬英九) and Chinese President Xi Jinping (習近平) in Singapore last month.
"President Ma is pleased to see Mr Chu [Chu Kung-hsun (朱恭訓)] and Mr Hsu [Hsu Chang-kuo (徐章國)] being able to unite with their families. He also hopes that both sides' good-intentioned interactions can be continued and lead to more concrete results in the future," Chen said.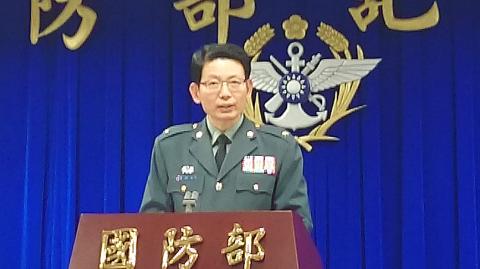 Ministry of National Defense spokesman Major General David Lo speaks at the ministry in Taipei on Tuesday last week.
Photo: Lo Tien-pin, Taipei Times
Chu, a former deputy department head of the Bureau of Military Intelligence (BMI), and Hsu, a former section chief of the bureau, were given a life sentence each for espionage while carrying out their official duties in China in 2006, MND spokesperson Major General David Lo (羅紹和) said.
After being imprisoned for more than nine years, they were released and returned to Taiwan on Oct. 13.
Lo said that after the two military intelligence officers were given a life sentence, the government had done everything possible to secure their release since 2008.
Lo also said the government expressed the highest respect and gratitude for the dedication of the two officers and the ordeals of their families and would do its utmost to take care of their interests and compensate them.
They are the highest-ranking Taiwanese agents ever to fall into Chinese hands, according to a local newspaper.
The Chinese-language China Times, which first reported news of the swap, also said Taiwan later agreed to release Li Zhihao (李志豪), a Chinese spy serving a life sentence in Taiwan, in late October, adding it was the first time that both sides of the Strait swapped spies, which it described as an "ice-breaking" move that was historically and politically significant.
However, Lo denied there was any spy swap deal.
"Their release and return to Taiwan in mid-October has nothing to do with a spy swap deal," Lo said.
Lo said Li has served part of his term, and requested parole many times before it was granted in late October.
On whether China has requested the release of former Army Major General Lo Hsien-che (羅賢哲), believed to be the highest-ranking Taiwanese officer to be caught spying for China in nearly five decades, the ministry spokesman said he does not know anything about it and that Lo Hsien-che is still serving his life sentence.
He said there are no BMI officers still detained in China.
Of those that have been detained for assisting the work of BMI officers, he said that they were either being released through parole or after having completed their terms.
The government would do everything possible to secure the release of those who are still detained, he added.
Additional reporting by Stacy Hsu
Comments will be moderated. Keep comments relevant to the article. Remarks containing abusive and obscene language, personal attacks of any kind or promotion will be removed and the user banned. Final decision will be at the discretion of the Taipei Times.