Wang lists assets, endures attacks
PUBLIC DISCLOSURE: Jennifer Wang yesterday released a list of assets and properties which shows that she and her husband own four plots of land and several buildings
Democratic Progressive Party (DPP) Legislator Tuan Yi-kang (段宜康) yesterday continued to challenge the legitimacy of Chinese Nationalist Party (KMT) vice presidential candidate Jennifer Wang (王如玄) and her husband's residence in a government dormitory, as the couple released a list of their assets in a bid to mitigate controversy on reports of speculative sales of military housing units.
Tuan said that in November 2005, Wang's husband, Huang Tung-hsun (黃東焄), then a prosecutor at the Taiwan High Prosecutors' Office, applied for a unit at the office's dormitory in accordance with Item 3 of its dormitory management regulations.
The item stipulates that the dorms are available to employees who have job-related special needs, have to provide service to remote areas or who need to accomodate spouses, young children, parents or physically disadvantaged dependents.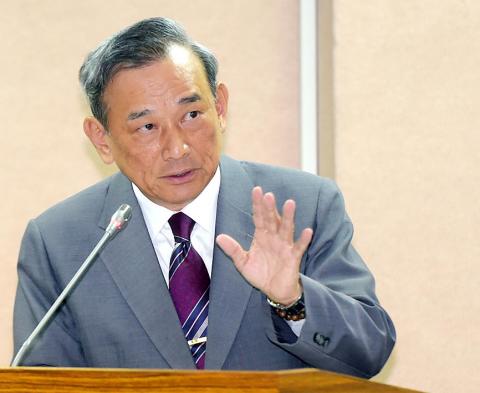 Vice Minister of Justice Chen Ming-tang yesterday answers questions about Chinese Nationalist Party (KMT) vice presidential candidate Jennifer Wang's assets.
Photo: Wang Min-wei, Taipei Times
"However, by March 2013, when Huang was transferred to the Ministry of Justice, a military housing unit in New Taipei City's Banciao District (板橋) purchased by Wang [in 2004] had already been registered under his name," Tuan said on Facebook.
Tuan said Huang should have returned his dormitory unit to the office and applied for one managed by the ministry.
Instead, the couple refused to leave the dorm, prompting the office to go through all the trouble of transferring the property to the ministry, Tuan said.
"In addition, although the ministry's dormitory management rules bar employees who own housing in Taipei, New Taipei City, Taoyuan County or Keelung City from applying for its dorms, then-minister of justice [Tseng Yung-fu (曾勇夫)] treated Huang's application as a special case and signed off on it," Tuan said.
Tuan said that in September, Huang resumed a post as the director of the Judicial Yuan's Department of Government Ethics, a job listed under the office.
As Huang and Wang still insisted on staying at their own dorm residence, the ministry has applied to transfer the unit back to the office, Tuan said.
"How ridiculous all this is," Tuan said.
Separately yesterday, Wang released a list of assets and properties under her and her husband's names, which shows them owning four plots of land and seven buildings, as well as having NT$28.59 million in savings.
While the document proves the military apartment under Huang's name is the only military housing unit owned by the couple, as Wang previously said, it fails to include any properties they previously possessed.
Wang said on Tuesday that she had purchased only four military residences since the 1990s, but they have since been sold or transferred.
However, Tuang has said that there were more military apartments that had been involved in Wang's dealings than she had revealed.
Despite KMT presidential candidate Eric Chu's (朱立倫) pledge that Wang would explain the matter in detail and reporters' requests for a press conference, Wang simply made public the list without elaboration.
Meanwhile, Wang has also drawn criticism from KMT lawmakers
KMT Legislator Alex Tsai (蔡正元) said Wang might become "the next Su Jia-chyuan (蘇嘉全)," referring to the 2012 controversy over the construction of a home on farmland by Su — a former minister of the interior who was then the DPP's vice presidential candidate.
The farmhouse was allegedly constructed illegally.
Saying that Wang has never been a candidate in an election, which "is tantamount to never having been through a background check," Tsai said that from now on Wang would be facing fusillade of attacks on her own "with no one at her back since the KMT has retracted its army of combatants."
"Why was [Wang] picked [as the party's vice presidential candidate]?" KMT Legislator Lo Shu-lei (羅淑蕾) said.
"I recommended KMT vice chairperson Huang Min-hui (黃敏惠), who is without major controversy. I do not see why she was not the one chosen."
Lo said that while many lower- ranking military servicemen are unable to purchase military housing units, Wang bought many in a short period of time and then resold them.
"That is really unfair to the servicemen who the government is trying to take care after," Lo said.
Neither Tsai nor Lo has been named one of the KMT's at-large legislator nominees, contrary to what had been expected before the announcement.
Lo said that many of her supporters have urged her to run for a legislative seat on the People First Party's ticket instead.
Comments will be moderated. Keep comments relevant to the article. Remarks containing abusive and obscene language, personal attacks of any kind or promotion will be removed and the user banned. Final decision will be at the discretion of the Taipei Times.