Trade pact a gift for elite: protesters
'OUT OF WHACK': Activists said Taiwan is dependent on China for a disproportionate 40 percent of its trade, and the focus should be on domestic competitiveness
The trade in goods agreement being negotiated with China would benefit large corporations at the expense of farmers and small businesses, civic activists said yesterday, calling for talks to be halted.
About 20 protesters from 10 different civic groups gathered outside the entrance of Taipei's Grand Hotel, lining up behind a long black banner condemning the talks. The hotel is the site for the latest round of talks, which began yesterday and are scheduled to conclude tomorrow.
Protesters shouted a series of slogans demanding that government negotiators not concede the interests of farmers and workers, shouting that negotiations should be halted until there was "democratic participation" and "civic unity."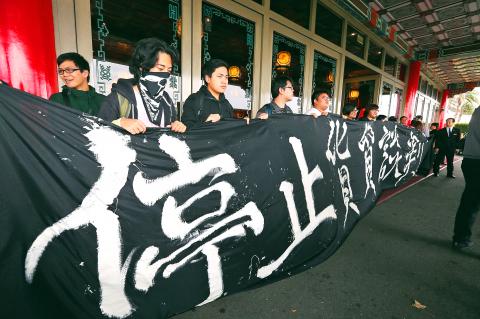 Demonstrators opposed to the cross-strait trade in goods agreement yesterday hold up a protest sign at the Grand Hotel in Taipei while negotiations are held inside.
Photo: CNA
Economic Democracy Union convener Lai Chung-chiang (賴中強) said that based on the government's negotiating objectives, large corporations controlling the petrochemical, flat-panel display and automotive industries would be the major domestic beneficiaries of any agreement. Any Chinese concessions to the industries would be linked to opening up thousands of new product categories to Chinese imports, he said.
"The Ministry of Economic Affairs has stated that Taiwan would benefit disproportionally if tariff rates fall to zero, because China's rates are higher than ours. What they do not say is that what China really cares about is the 22 percent of products for which we ban Chinese imports. China has not dared to sue us in the WTO because such a suit would represent a recognition of our sovereignty, but they are now trying to use the trade in goods talks to bring about the 'normalization' of trade," he said.
The impact of "opening the door" would be "huge," he said, potentially affecting processed agricultural goods, as well as the steel, textiles, electronics, electronic cabling, glass, ceramics and rubber industries.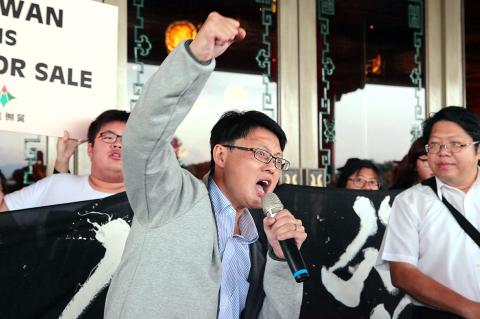 A Radical Flank protester yesterday raises his fist during a demonstration outside the Grand Hotel in Taipei while negotiations over a cross-strait trade in goods agreement are held inside.
Screen grab from Radical Flank website
"These are all tied closely with people's livelihoods and any imports would harm grassroots labor, but the government has not let the public know the truth, much less given them the opportunity to influence the negotiations," he said.
He said a mechanism should be established to allow small businesses to have the same access to government negotiators as large corporations, adding that any industries which benefit from a deal should be required to pay extra taxes to fund the "transition" of other industries.
"Taiwan is already reliant on China for more than 40 percent of its trade — which is 'out of whack' because we have basically put all of our eggs in a Chinese basket," Radical Flank convener Chen Yi-chi (陳弈齊) said. "Given this, why in the world do we need to conduct further negotiations on trade in goods or services?"
"Pushing to open markets is not an economic policy program or industrial development program," he said, adding that increasing the competitiveness of domestic products should take priority over efforts to cut trade barriers.
Meanwhile, about eight protesters from the Taiwan Solidary Union Youth Corps were escorted out of the Grand Hotel's lobby by police after they charged in to protest the talks, yelling that the agricultural sector had to be protected from a clandestine trade in goods agreement.
Department of Youth Affairs director Chang Chao-lin (張兆林) said the government was playing "word games" with claims that it would not open the agricultural sector.
Restrictions on processed agricultural goods would likely be dropped, hurting farmers interests, he said.
Comments will be moderated. Keep comments relevant to the article. Remarks containing abusive and obscene language, personal attacks of any kind or promotion will be removed and the user banned. Final decision will be at the discretion of the Taipei Times.