Taipei lead pipeline hotline criticized
INFORMATION GAP: A city councilor said repeated calls to the water department only led to confusion, while an official said some residents do not want their areas identified
The Taipei Water Department yesterday came under fire over what critics said was confusing information provided by a telephone hotline that it established so that residents could find out if the water supplied to their homes comes through lead piping.
Taipei City Councilor Hsieh Wei-chou (謝維洲), a Democratic Progressive Party (DPP) member, said that he made three telephone calls to the hotline before he could get an answer about the water supply to his service center on Fuguo Road in Shilin District (士林), saying that information provided by the department was different each time. He said the hotline was "clumsy."
He raised the complaint during a question-and-answer session with Taipei Water Department Deputy Commissioner Chen Ming-chou (陳明洲).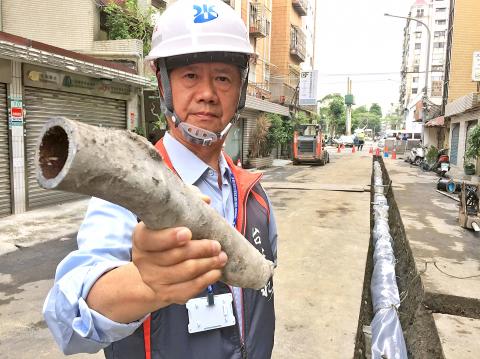 Taipei Water Department employee Wang Ming-fu yesterday holds up a piece of replaced water pipe on Songjiang Road.
Photo: CNA
Hsieh said an investigation by his office found that about 36,000 households nationwide use water carried by lead pipes, including about 17,000 in Taipei, with Zhongzheng (中正), Wanhua (萬華), Datong (大同) and Daan (大安) districts identified as having a high concentration of lead pipes.
The investigation showed that Taipei residents living along 605 road sections, spanning about 107km, use water supplied from lead pipes.
Hsieh played a recording of a telephone call he made to the department, in which an official told him the agency was unable to determine from an online map whether pipes running to his service center were made of lead, and that an answer to Hsieh's query would require an "on-site inspection."
He asked Chen how Taipei residents are supposed to ascertain whether the water they use is safe and if the department could publish a map detailing road sections where lead pipes are in use.
The department had misled Taipei Mayor Ko Wen-je (柯文哲) into believing that an extra NT$2 billion (US$61.2 million) is needed to replace lead pipes with stainless steel ones, as the city had already earmarked NT$20 billion to renovate pipelines.
Ko has proposed increasing water prices, starting next year, to raise funds to replace the pipes.
Hsieh said the city's water quality is suffering and Ko should postpone hiking water rates until improvements in the water quality are made.
Chen said the department has had difficulty in gathering data on where lead pipes were laid because they were installed before 1979 and that has created problems with misinformation.
The department had gathered as much information as it could over the past two days for a Web page scheduled to go live at midnight tonight so that residents can look up their area to see if their water supply might be contaminated with lead, Chen said.
Residents accessing the site — www.water.gov.taipei — would need to enter a code that appears on their water bills for their search, he said.
The department cannot provide a map on the distribution of lead pipes because it must respect residents' rights to privacy, he said, adding that most of the people who contacted the department since news of the lead contamination broke this week said they did not want their homes marked or identified if lead pipes run through their properties.
The department would update Ko on the budget required to replace the pipes, Chen said.
The department on Wednesday said it would take three years to replace all the lead pipes.
However, a netizen created a Chinese-language Web site — http://kiang.github.io/lead_pipes — using information provided by Hsieh that allows people to look up the lengths of lead pipes and the number of taps connected to such pipes by road section.
Comments will be moderated. Keep comments relevant to the article. Remarks containing abusive and obscene language, personal attacks of any kind or promotion will be removed and the user banned. Final decision will be at the discretion of the Taipei Times.