Chu shrugs off presidential bid report
'NONSENSE': Chu acknowledged that opinions in the party have been divided recently, and said that he has urged members to speak their minds and exchange ideas
Chinese Nationalist Party (KMT) Chairman Eric Chu (朱立倫) yesterday shrugged off a media report alleging that he plans to resign as mayor of New Taipei City next week so that he can replace Deputy Legislative Speaker Hung Hsiu-chu (洪秀柱) as the party's presidential candidate.
At a public event in New Taipei City yesterday afternoon, Chu refused to comment on "nonsense and groundless rumors."
When asked whether he would honor his pledge to serve out his mayoral term, Chu said that he would try his best to fulfill his duties as a mayor every day.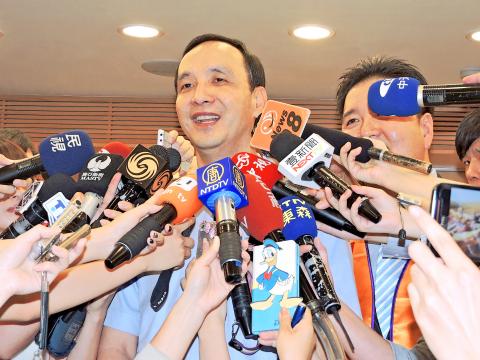 Chinese Nationalist Party (KMT) Chairman Eric Chu grins while talking to the media in New Taipei City yesterday.
Photo: Lai Hsiao-tung, Taipei Times
The media storm was ignited by an article published yesterday in the Chinese-language Liberty Times (the Taipei Times' sister paper), which cited anonymous sources as saying that Chu has reached an agreement with the Presidential Office to run for president in Hung's stead.
The article alleged that Chu had decided to take over the responsibility in an effort to rescue his own career and the fortunes of the KMT from the impact of a potential drubbing in next year's polls. If he were to throw his hat into the ring, it would directly contradict his oft-repeated promises to serve out the full term of his mayorship and to back Hung's candidacy.
Chu is likely to announce his plan next week, the report said, as it would mean the by-election for New Taipei City could be combined with the Jan. 16 presidential and legislative elections, which could boost the KMT's effort to maintain control of the special municipality.
The law requires that mayoral by-elections be held within three months of the resignation of the incumbent.
On Sunday, KMT Central Standing Committee member Chiang Shuo-ping (江碩平) also demanded a provisional party congress be held — likely at a routine meeting of the committee tomorrow — to assess whether Hung should be replaced.
Asked about Chiang's requests, Chu yesterday said that opinions in the party have been divided recently and he has urged party members to speak their minds and freely exchange opinions.
"Only through deliberation and the exchange of opinions can true unity be forged among party members... in the face of difficulties stemming from next year's elections," Chu said.
Chu said he welcomed face-to-face communication and the submission of a diversity of ideas at committee meetings.
Later yesteday, a KMT official who declined to be named confirmed that Chu has twice urged Hung to quit the race because her chance of winning the election is too small.
Meanwhile, Hung's supporters have taken to Facebook to vent their discontent over Chiang's plan to oust the deputy legislative speaker as the KMT's presidential candidate.
Hundreds of Facebook users have threatened to converge on KMT headquarters tomorrow in a show of support for Hung.
About 1,000 netizens have also signed an online petition urging pro-KMT supporters to abstain from voting in the legislative election if Hung is forced to drop out of the presidential race.
"Not wanting to vote for the Democratic Progressive Party does not necessarily mean we would vote for the KMT," the petition's initiators said.
"Do you [the KMT] really think that abandoning Hung would only get you a few days of criticism and that her supporters would still vote for the party with a sour taste in their mouths? Only in your dreams," they said.
Comments will be moderated. Keep comments relevant to the article. Remarks containing abusive and obscene language, personal attacks of any kind or promotion will be removed and the user banned. Final decision will be at the discretion of the Taipei Times.