Afghan military pushes to retake city from Taliban
Afghan forces yesterday pushed into the center of Kunduz, triggering gunfights as they sought to flush out Taliban insurgents who held the northern city for three days in a stinging blow to the nation's NATO-trained military.
The stunning fall of the provincial capital, even temporarily, highlighted the stubborn insurgency's potential to expand beyond its rural strongholds in the south of the country.
Afghan forces, hindered by the slow arrival of reinforcements, but backed by NATO special forces and US air support, struggled to regain control of the city after three days of heavy fighting.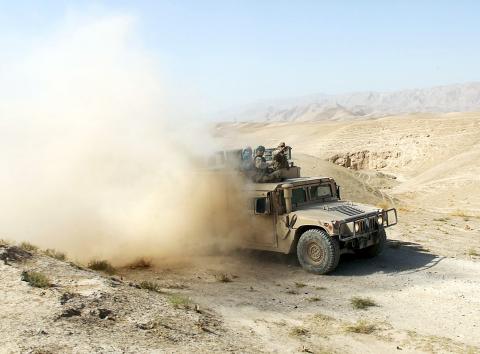 An Afghan security vehicle advances toward the city of Kunduz, Afghanistan, on Wednesday.
Photo: Reuters
However, military convoys yesterday managed to penetrate into the center of Kunduz after an overnight counteroffensive. Residents told reporters that gunbattles were still echoing in parts of the city and the streets were littered with Taliban bodies and charred and mangled vehicles.
"Afghan security forces are in control of Kunduz City," Afghan Ministry of the Interior spokesman Sediq Sediqqi said.
"The clearance operation will take some time as Taliban remnants are firing from inside civilian houses and booby traps have been planted in places," he said.
The Taliban sent mixed messages concerning their progress, with spokesman Zabihullah Mujahid insisting that militant forces were holding their ground in the city.
However, an Afghan Taliban commander, who spoke to Agence France-Presse from an undisclosed location, said that Taliban fighters were conducting a strategic retreat from Kunduz.
"The Taliban have almost vacated the main parts of the city, but let me make it clear that we have proved that we can take control of any other city whenever we want," he said.
Some scenes of jubilation erupted at dawn around the city square, where residents, who suffered three days of crippling food shortages, thanked government troops, according to locals.
"Afghan soldiers took down the white-and-black Taliban flag in the city square and hoisted the government flag," Kunduz resident Abdul Rahman said.
"The Taliban suffered heavy casualties last night. Dead bodies are scattered on the streets, and their supporters are carrying them out of the city wrapped in white cloths," he said.
So far, 49 bodies and 330 wounded people have been brought to the city hospitals, provincial health director Saad Mukhtar said.
Security officials said the militants had slowly infiltrated Kunduz during the recent Eid festival.
The development coincided with the first anniversary of Afghan President Ashraf Ghani's national unity government.
Marauding insurgents seized government buildings and freed hundreds of prisoners, raising their flag throughout Kunduz.
The lightning capture of the city sent thousands of panicked residents fleeing as insurgents erected checkpoints and were seen racing vehicles stolen from the police, UN and Red Cross.
Militants, showing off seized tanks and armoured cars, had issued edicts against looting and vowed to enforce Shariah law.
Rights group said the insurgents exposed civilians to grave danger by hiding in people's houses and conducting door-to-door searches for Afghan soldiers and government staff.
Comments will be moderated. Keep comments relevant to the article. Remarks containing abusive and obscene language, personal attacks of any kind or promotion will be removed and the user banned. Final decision will be at the discretion of the Taipei Times.