Storm brews over second typhoon day
WHO AND WHEN: Taipei and New Taipei City mayors said decisions were made collectively with Keelung, but the port city's mayor disagreed with that perspective
Controversy erupted yesterday over Taipei, New Taipei City and Keelung's declaration late on Monday night that yesterday would be a full typhoon day, with Taipei Mayor Ko Wen-je (柯文哲) saying that he was "ashamed" an extra typhoon day had been called.
The three municipalities announced at 8pm on Monday that work and schools would be canceled for half a day yesterday morning. However, two hours later, they announced the entire day would be a typhoon day.
The absence of rain and wind yesterday morning led reporters to question Ko about the appropriateness of a second typhoon day due to Typhoon Dujuan.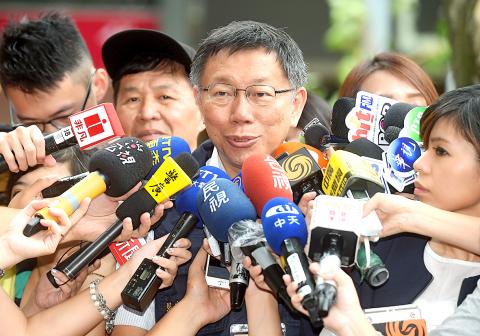 Taipei City Mayor Ko Wen-je answers questions from reporters in Taipei's Minsheng Community yesterday.
Photo: Chien Jung-fong, Taipei Times
"I feel ashamed — an apology is owed to the public for a typhoon holiday being declared for this kind of weather," he said.
He said the 8pm decision had been made by the departments of the three municipalities based on data provided by the Central Weather Bureau.
"I just took a look and said okay, but the result is that city residents are pretty dissatisfied," he said.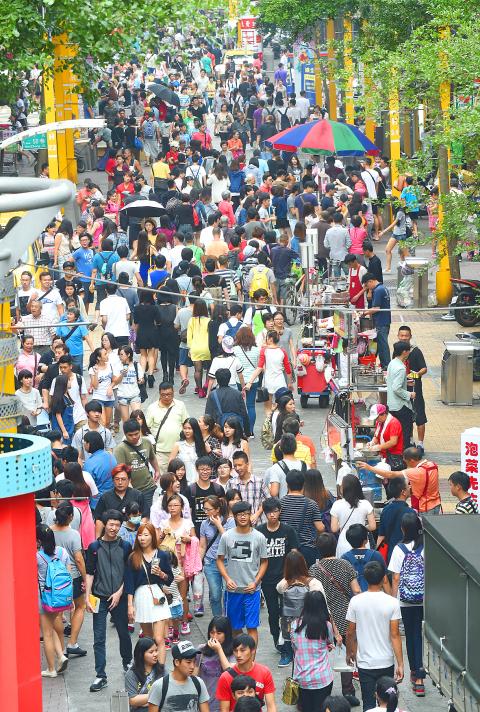 People crowd Taipei's Ximending shopping area yesterday.
Photo: Liu Hsin-de, Taipei Times
The three cities should collectively bear responsibility for the decision, he said.
Sources said the 8pm decision was based on data that showed that New Taipei City would "brush" the edge of the wind speed standard for canceling classes and work, while Taipei did not meet the standard.
Ko said there was no precedent for starting work and classes in the afternoon after a typhoon holiday, adding that the situation yesterday was also unusual because it would have been the first working day following a long weekend.
Ko confirmed that New Taipei City Mayor Eric Chu (朱立倫) of the Chinese Nationalist Party (KMT) had called him on Monday night, but said that more than half of the telephone call had simply been "chatting."
He denied that the call to alter the decision had been made by one person or because of public pressure.
The decision was made because the high-speed rail and Taiwan Railways Administration trains were only scheduled to resume service yesterday afternoon, which meant that people who had traveled south or to the east coast to visit relatives for the Mid-Autumn Festival would not be able to get to work in the morning, Ko said.
The three municipalities would continue to make decisions about typhoon holidays together, he said.
In New Taipei City, Chu said the decision to declare a full day off was based on post-Mid-Autumn Festival traffic conditions and the need to clean roads and sidewalks of debris left by the storm.
As for rumors that his government only wanted half a typhoon day, Chu said the decision to declare a full day had been made by all three municipalities.
However, Keelung Mayor Lin Yu-chang (林右昌) of the Democratic Progressive Party expressed a different view on the decisionmaking process.
He said New Taipei City was to blame for the 8pm announcement, and that he had only been told about the half-day plan at 7:45pm.
Lin said that he and Ko both had reservations about the plan, but had been unable to contact Chu before New Taipei City announced it.
From now on, Keelung would make its own decision about typhoon days, rather than just going along with Taipei and New Taipei City's decisions, he said.
The other two cities should listen to Keelung's view before making their own decision and expecting Keelung to fall in line, he said.
Taipei city councilors and parent groups blasted the decisionmaking process, saying that the "flip-flops" had created uncertainty.
Taipei City Councilor Kuo Chao-yan (郭昭巖) of the KMT said that Ko should learn from this experience to get a better grip on public opinion and disaster situations to ensure a more "thorough" decisionmaking process in the future.
Additional reporting by Liang Pei-chi
Comments will be moderated. Keep comments relevant to the article. Remarks containing abusive and obscene language, personal attacks of any kind or promotion will be removed and the user banned. Final decision will be at the discretion of the Taipei Times.