Taiwan 'extremely dissatisfied': Mao
CHINESE TRAVEL PASS: The premier told lawmakers that Beijing's action had hurt the public's feelings by not consulting Taipei in advance about the card pass
China did not consult with Taiwan before implementing a new policy concerning the entry of Taiwanese visitors into its territory, Premier Mao Chi-kuo (毛治國) said yesterday, adding that the government is "extremely dissatisfied" with the lack of discussions.
"It has to be stated quite clearly that this is extremely hurtful to the feelings of our people," Mao said during a question-and-answer session at the Legislative Yuan.
China notified Taipei about the new electronic card before its trial in July and its full implementation yesterday, but without prior consultations, Mainland Affairs Council Deputy Minister Lin Chu-chia (林祖嘉) said.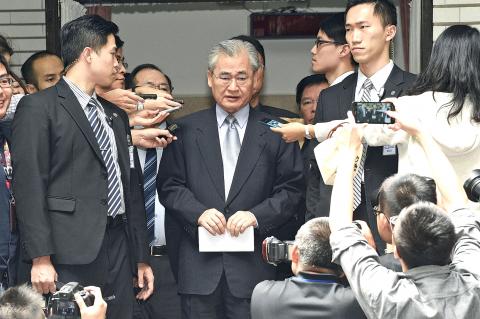 Premier Mao Chi-kuo yesterday talks to reporters outside the Legislative Yuan.
Photo: Chen Chih-chu, Taipei Times
There has been a lack of consultation despite Taiwan's persistent demand that there should be prior consultations before any important policy concerning cross-strait relations is announced, Lin told lawmakers.
Taiwan had asked Beijing whether the use of the new card might be expanded, but no response has been received, Lin added.
The new credit card-sized travel pass replaces the "Taiwan compatriot travel document" (台胞證) that Taiwanese have used until now.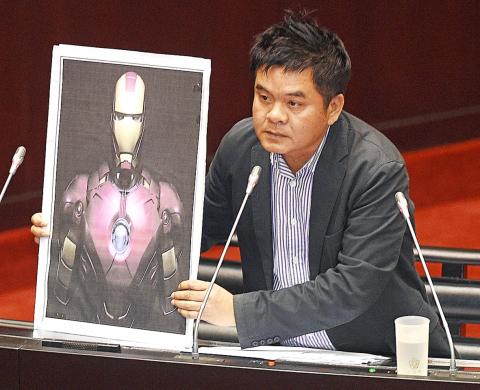 Democratic Progressive Party Legislator Chuang Jui-hsiung yesterday tells Premier Mao Chi-kuo during a meeting at the legislature in Taipei that he hoped Mao would be as tough as comic book hero Iron Man in dealing with China over its new entry policy for Taiwanese.
Photo: Chen Chih-chu, Taipei Times
In a public notice issued on Tuesday last week, Beijing said Taiwanese could apply to its public security departments above the county level to exchange their travel document for the new card and authorities would stop issuing paper documents yesterday.
Those who hold a paper "Taiwan compatriot travel document" could continue to use it until it expires, Lin said.
To coincide with the introduction of the new card, Beijing began in July to grant permit-free treatment to Taiwanese, which removed the need for an entry permit.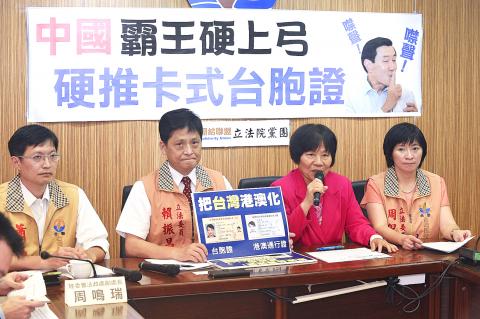 Members of the Taiwan Solidarity Union yesterday hold a news conference at the Legislative Yuan to criticize the government and Premier Mao Chi-kuo's handling of China's controversial new travel card for Taiwanese.
Photo: Chen Chih-chu, Taipei Times
The integrated-chip card system was implemented on a trial basis on July 1, less than a month after Beijing announced the change, and Taiwan was officially informed of the policy 20 minutes before it took effect, Mainland Affairs Council Minister Andrew Hsia (夏立言) said.
China's unilateral decision to adopt the new card on such short notice showed disrespect for Taiwan, Hsia said during a visit to the US in July.
The switch to a smart card has created suspicion among many Taiwanese that Beijing is using it to downgrade Taiwan's status to that of Hong Kong and Macau.
The card is similar to the "Hong Kong and Macau resident travel permit to enter the interior" (港澳居民來往內地通行證), which is also known as a "home visit permit" (回鄉證), critics have said.
Some Taiwanese academics have also voiced concern about possible data security breaches with the use of the card.
Experts have said that the smart chip embedded in the card would make it easy for Taiwanese tourists in China to be subjected to police surveillance.
Comments will be moderated. Keep comments relevant to the article. Remarks containing abusive and obscene language, personal attacks of any kind or promotion will be removed and the user banned. Final decision will be at the discretion of the Taipei Times.