Ta An vinegar, soybean paste recalled
REPROCESSING: Prosecutors raided Ta Chun Kong Yen Foods Co's factory in Tamsui District, New Taipei City, and seized about 311kg of expired and unlabeled products
Eleven vinegar and soybean paste products manufactured by Ta Chun Kong Yen Foods Co (大醇工研食品公司) were ordered to be recalled late on Thursday after the company was allegedly found to have reprocessed expired, defective and returned foodstuffs into new products.
A subsidiary and contract manufacturer of Ta An Kong Yen Foods Co (大安工研食品公司), the nation's main vinegar manufacturer, which has been operating for 74 years, Ta Chun allegedly adulterated vinegar and soybean paste with expired and soon-to-be-expired products returned by wholesalers, the Shilin District Prosecutors' Office said.
Prosecutors, along with Ministry of Health and Welfare inspectors, raided the company's factory in Tamsui District (淡水), New Taipei City, and seized about 311kg of expired and unlabeled products late on Thursday night.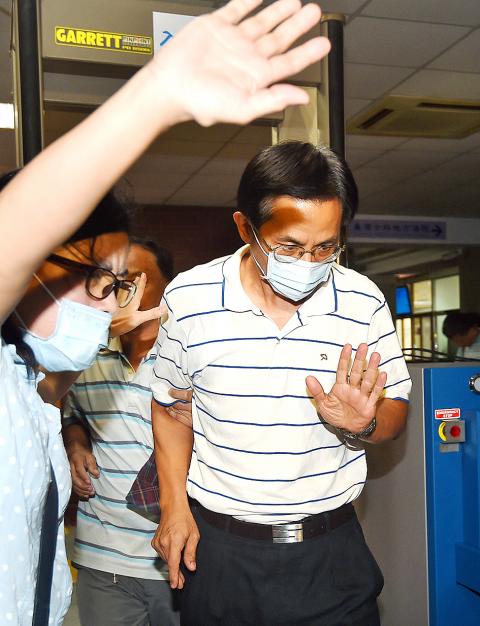 Ta An Kong Yen Foods Co manager Chiu Hsien-chung steps out of the Shilin District Prosecutors' Office in Taipei yesterday after being questioned about a vinegar scandal.
Photo: Liao Chen-huei, Taipei Times
Prosecutors said that they ordered the recall of nine vinegar products and two soybean paste products immediately after the raid.
Ta Chun director Hsu Chin-chun (許金春) was released on NT$5 million (US$152,858) bail after being questioned, while four other company officials were also questioned and posted bail, prosecutors said, adding that they could face fraud charges.
Prosecutors said they had conducted a secret investigation last month after they were informed by former Ta Chun employees in June of the company's alleged illegal practices.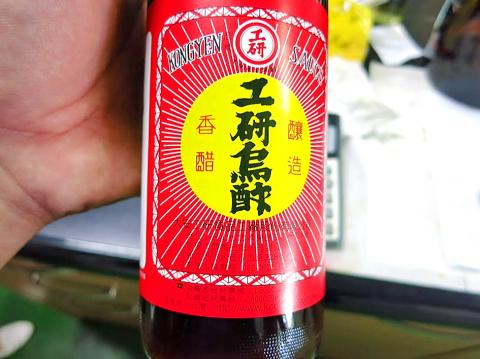 A bottle of vinegar made by Ta An Kong Yen Foods Co is displayed in an undated photograph. The company's vinegar products have allegedly been mixed with expired vinegar and then sold to the public.
Photo courtesy of the New Taipei City Public Health Department
Hsu was quoted by her lawyer, Wang Kuei-shu (王桂樹), as saying that she denied any accusation of fraud, but the company "forgot" to tell consumers that its products were made with recycled and reprocessed products, for which the company was at fault.
Stressing that Ta Chun has strictly followed traditional methods when making vinegar and soybean paste, Wang said that the company reprocessed expired products between January last year and June this year, adding that "the longer the vinegar is stored, the more fragrant it is."
Ta An director Hsu Chia-hsu (許嘉旭), the brother of Hsu Chin-chun, had no knowledge about the management of Ta Chun and the two companies operate independently, Wang said.
The Food and Drug Administration said that all foodstuffs must be labeled with an expiration date and it is illegal to use or sell any expired products and ingredients according to the Act Governing Food Safety and Sanitation (食品安全衛生管理法).
Violators are subject to a fine of between NT$60,000 and NT$200 million, as well as the suspension or withdrawal of their operating license, the administration said.
The administration said all the suspected problematic products must be removed from shelves by midnight on Sunday and violators could face a maximum fine of NT$3 million, according to the act.
In response, Ta An said yesterday that all its products had passed government inspections and examinations by a third-party facility with no reported irregularities and that prosecutors have not produced any evidence that Ta Chun's products were problematic.
Ta An said it would nevertheless comply with the order to recall the products.
Executive Yuan Food Safety Office Director Kang Jaw-jou (康照洲) said that the case was a violation by a single manufacturer rather than a large-scale food safety issue, adding that although it is possible the reprocessed foodstuffs contain no toxic substances, such practices are untruthful and fraudulent.
Comments will be moderated. Keep comments relevant to the article. Remarks containing abusive and obscene language, personal attacks of any kind or promotion will be removed and the user banned. Final decision will be at the discretion of the Taipei Times.